Devotion 1 in the series It's the New You! Joshua 1:1-9
Why You Can Be Brave: It's the New You!
Inside: Do you feel like you can't be brave because you have no idea what to do or where your strength will come from? How are you to be strong when you feel like turning off the alarm and pulling the covers over your head? Find encouragement so you can face the day with courage!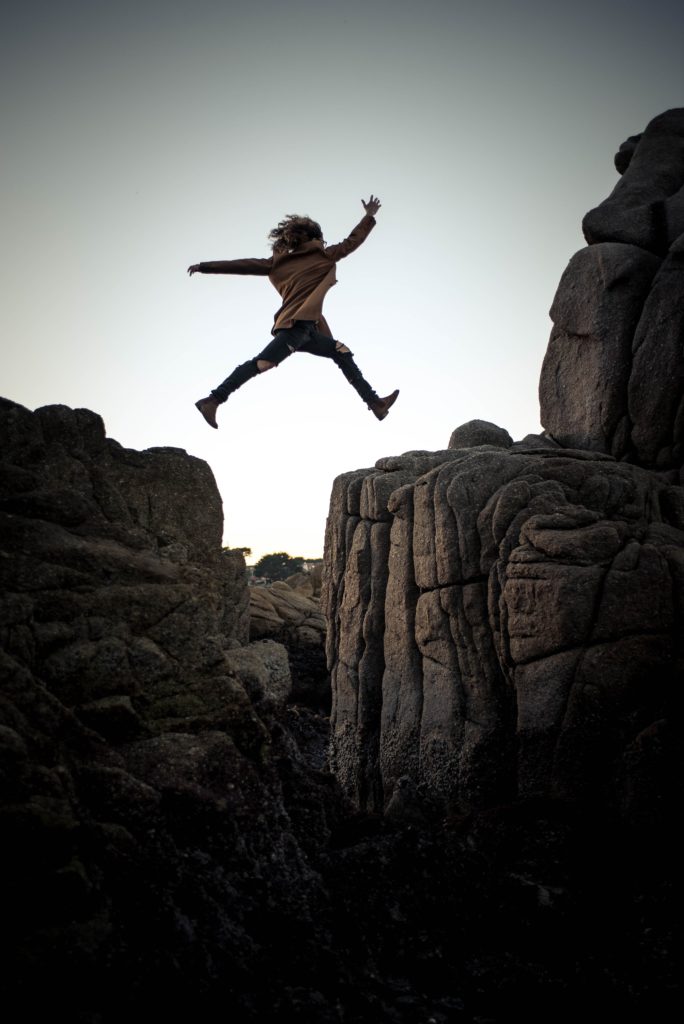 Photo by Sammie Vasquez on Unsplash
"We've got this!" the captain of the volleyball team shouts to her team, down by 4, needing the win. The other players nod, eyes steeled across the net, knees bent, ready to respond.
"You've got this!" a parent cheers.
Ever feel like you don't?
Like you don't at all have it?
I wonder what Joshua thought, poised to take a land unknown to him, his leader and mentor dead, thousands of families looking to him to lead them across the Jordan River and into a new land. Was his stomach somersaulting with emotions? Were his hands trembling as he held his weathered staff?
Are yours?
The things we don't post on Facebook, right?
When you're supposed to be brave to face the day, but what you really want to do is turn off the alarm and pull the covers over your head. 
Backed By the God of the Universe
I don't know what it is for you. While the rest of the world celebrated three holidays in fast succession, my household grew by four and my mom had a total knee replacement with a later complication. A job was lost, and the teenagers got older. One of them faked a fever. Remember those old tricks? I'm pretty sure she ran the thermometer under hot water. For the first time ever, the teenager who fears shutting her bedroom door shut her bedroom door to talk to someone online. Other, harder things happened.
How do I lead through this, and do I really have to get up at 6 a.m. and have it all together?
"You've got this!"
No, I really don't.
Neither did Joshua, and God knew it. At just the right time, God came to Joshua and gave him the pep talk to beat all pep talks. Different from the pep talks you've heard from coaches. More powerful than the self-initiated conversation that runs through your head.
Because this promise was backed by the God of the universe, and he not only said "Be strong and courageous. Do not be frightened, and do not be dismayed," but he backed it up with the reason we can be brave: "for the Lord your God is with you wherever you go." (Joshua 1:9 ESV)
It's not "You've got this!" but "God's got this!"
For What Is God Asking You to Be Brave?
Has God presented you with a new venture for which you need his strength and courage? Are you looking at a Promised Land but doubting your abilities to take it? Are you unqualified and unprepared? Might God be saying, "Be brave, because I will be with you wherever you go"?
Can we apply this promise to those daily challenges in life, too? Do you need to be brave to:
Write an encouraging note to a friend or coworker?
Take that deeply personal thing to God in prayer?
Stop that habit in its tracks?
Keep your mouth silent, your lips sealed?
To be sure, any one of these things takes strength and courage from God. You might be facing several.
So I hit the snooze button only once, crawl out of bed to wake the kiddos, and plot my morning so I will have time to consult with God:
What should I do about the teenager's closed door?
How can I be a godly, positive force in a burgeoning household?
Will he please give me strength to be productive at work while all of this is swirling around?
What has God asked you to do . . . and how can you be brave to do it? I do not know all the answers, but I do know why you can be brave: Because "the Lord your God is with you wherever you go."
Digging into God's Word
Today or throughout the week, join me in digging deeper with God. Read Joshua 1:1-9 and reflect on the following questions. Verses 5 to 9 are printed for you below. You might write in a prayer journal or take notes in your Bible. This passage is ripe with potential for Bible art journaling!
1. Imagine how Joshua felt first before and then after God spoke to him in this passage: before and after the holy pep talk. Record your thoughts. Can you relate to these feelings and emotions?
2. What do you learn about God in this passage? If you are familiar with the account of the fall of Jericho, which was the first city to fall in the Promised Land, what might that have proven to Joshua about God's promises given to him in this passage?
3. What has God asked you to be brave to do? How is it going? What do you need to take to God in prayer?
Joshua 1:5-9 (ESV)
5 No man shall be able to stand before you all the days of your life. Just as I was with Moses, so I will be with you. I will not leave you or forsake you. 6 Be strong and courageous, for you shall cause this people to inherit the land that I swore to their fathers to give them. 7 Only be strong and very courageous, being careful to do according to all the law that Moses my servant commanded you. Do not turn from it to the right hand or to the left, that you may have good success wherever you go. 8 This Book of the Law shall not depart from your mouth, but you shall meditate on it day and night, so that you may be careful to do according to all that is written in it. For then you will make your way prosperous, and then you will have good success. 9 Have I not commanded you? Be strong and courageous. Do not be frightened, and do not be dismayed, for the LORD your God is with you wherever you go."
Praise and Worship
There is nothing like a little worship to wipe away fear. Be brave to sing your praise to the Lord!
Masterpiece (Danny Gokey)
Maybe It's Ok (We Are Messengers)
Worthy of It All (David Brymer)
Print