Meet with God ~ Grow in Faith
Devotion 1 in the series Peace: Resting in God's Sovereignty
Where Can You Find Peace in the Middle of the Storm?
Inside: Are you living in the middle of unresolved circumstances? Has life thrown you a curve ball? Where can you find peace in the middle of the storm?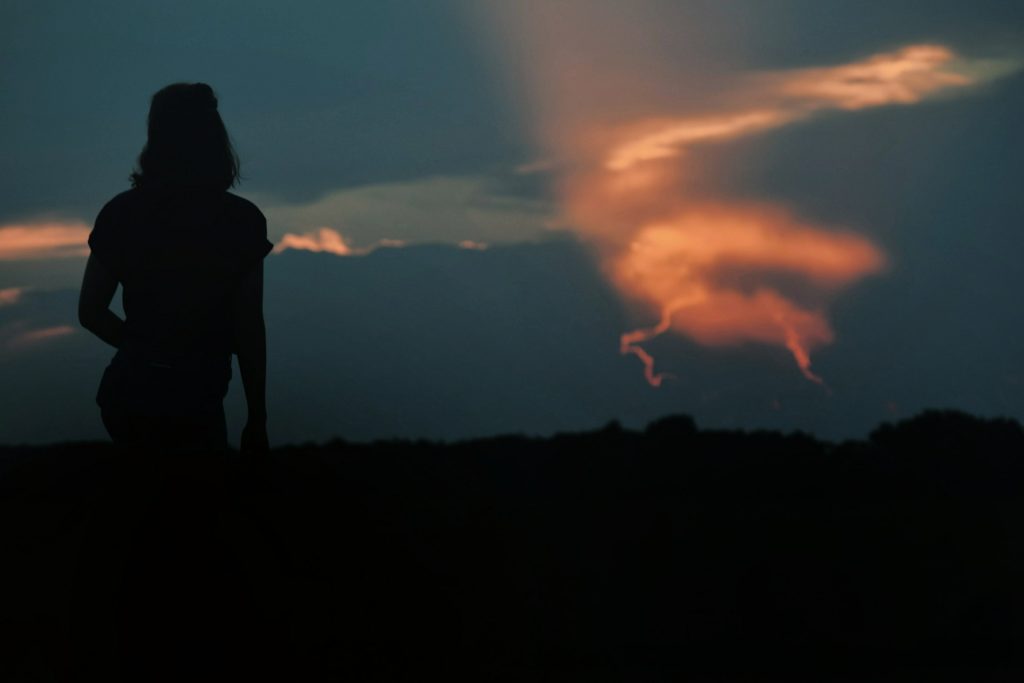 Photo by Luke Jurgella on Unsplash
"Mind blown!" I penned in my journal. Profound, right?
I wrote other equally insightful thoughts this spring:
"Here I sit, totally confused."
"What is going on?"
"I've never seen you move like I've seen you move this year."
"You have been so faithful."
I wish I could tell you the details of it all . . . and all of the outcomes. But the story is still being written, and so here I sit, in the middle of a sovereign story that seems to have so much at stake in so very many areas, and, yet, I don't know the outcomes!
Can you relate?
Perhaps you, too, sit not knowing an outcome:
How will that important relationship develop?
Will the white blood cell count be high enough for your loved one to receive chemotherapy?
What will be the consequences of the wayward child's choices?
Is God really expecting you to do this new or hard thing?
In His provision, God has led me back to Mark 4.
Finding Peace in the Storm
After parables of sowers and lamps and seeds, we see Jesus "just as he was" in a boat on the Sea of Galilee with His disciples. The wind and waves pick up, and soon the storm becomes formidable. The waves are breaking into the boat, and the vessel is filling with water.
What boat in your life is filling with water?
You encounter conflicts and barriers in the relationship.
The white blood cell count plummets.
The wayward child keeps making questionable decisions.
You have no idea how to do this new or hard thing.
Jesus seems asleep.
Where are you, God, and what are you doing? Why are you allowing this to happen? Perhaps you have penned similar profundities in your journal or asked them with a not-so-nice voice in your head.
"Teacher, do you not care that we are perishing?"
And he awoke and rebuked the wind and said to the sea, "Peace! Be still!" And the wind ceased, and there was a great calm. (Mark 4:39 ESV)
Jesus hears our cries. He knows and remembers our prayers, even those we stopped praying long ago because we had given up.
But He has not forgotten, nor has He given up!
"Peace! Be still!" He rebukes the waves, He directs our situation. With one command of His voice, one sweep of His hand over the raging sea, He brings peace.
The wind ceases, and there is a great calm.
The wind and the sea–and the situation you are facing–they all obey Him, because He is Lord of all. His eye is on the sparrow, and I know He watches out for you and me.
Let me encourage you today: Live in faith. Live with faith. Our God is with us!
Prayer and Praise
Thank you, Lord! You are so good to your children. Keep us steadfast in you, and may all the people we know and love come to know your enormous love for them. Help us trust that you've got it: You rebuke the wind, you speak to the waves, and they obey you. So can you work your will and your way in all the hard things in our lives. Come, Lord Jesus! Fill our homes and our hearts and work your divine purposes in them. As you are working, Lord, help us to live with peace in our hearts. Amen.
It Is Well (Bethel Music)
Almighty God (One Sonic Society)
His Eye Is on the Sparrow (Selah, or if you prefer, Whitney Houston. I had forgotten she recorded this!)
Digging Deeper: Questions for Reflection
If you are so inclined, use these questions for a devotional time today or throughout the week.
1. In what areas do you see God working in your life or the lives of others? What are some signs that He is at work? If nothing comes to your mind, let this idea sit with you this week. Ask God to help you notice what He is up to.
2. Ask God what He would like you to do: rest? be still? share His love with someone? How?
3. Thank God that He is working, and ask Him to give you peace as you trust in Him for the outcome.
You Might Like:
I have been reading Release the Power of Prayer by George Muller. It is seriously the best book I have ever read on the power of prayer. Don't be intimidated: It has large print and is easy to read!
Print