Devotion 10 in the series Elijah: Fully Surrendered
When Complete Surrender Leads You to Unexpected Places
Inside: Complete surrender takes us to unexpected places. The question is would I go–do I go–everywhere God asks me to go? How tender God is to help us trust Him.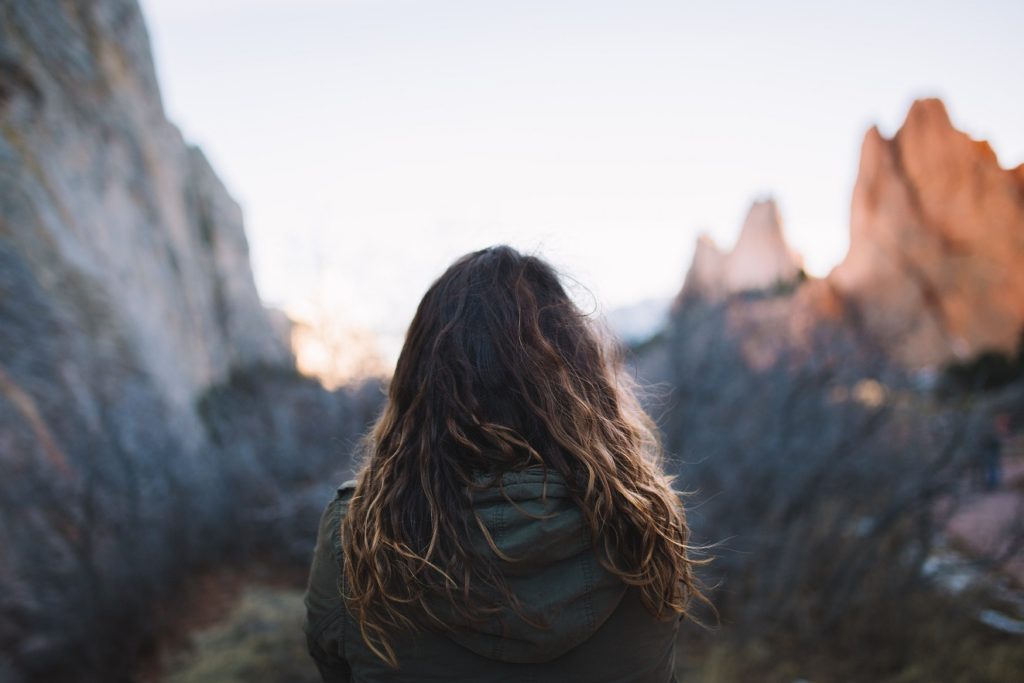 Photo by Brooke Cagle on Unsplash
Scripture passage: 2 Kings 2:1-14, portions of which are printed for you below
We sat in the small meeting room, coffee drinks sustaining us in the early morning hour, sharing stories of how God had led us to unexpected places–new jobs, relocations, new homes.
Laughing, we shared how we had balked at the time–how only reluctantly did we make the changes, kicking and screaming for control–until months or years later, when we looked back and saw and understood in deeper ways how God had protected us. We hadn't known the industry would crumble, the business would fail, or our child would not have been safe . . . until God showed us, sometimes in the most intricate of ways, revealing His hand so that we would trust in His unfailing love.
Am I really, truly fully surrendered to Jesus?
This is the question that jumps off the page to me as I read the account of Elijah's journey to heaven. Would I go–do I go–everywhere God asks me to go? And when my time on earth is done, will I willingly follow my Savior's leading, regardless of the difficulty or the length of the journey?
I have grown fond of this prophet, Elijah. He seemed larger than life on Mount Carmel, then we saw him falter in his faith and confidence, and now we see him walking steadily along, resolutely following God's leading, knowing full well that the journey will end in his departure from earth and all that he knows.
How tender is our Lord: Remember Elijah's plea in 1 Kings 19:4 (ESV)?
And he asked that he might die, saying, "It is enough; now, O LORD, take away my life, for I am no better than my fathers."
Our Heavenly Father heard the strain, remembered His servant, and at the end, carried Elijah to heaven in the most unexpected way, and without the death Elijah had pleaded for. God answered in a better and more phenomenal way than we would ever have imagined. It's as if he heard Elijah's plea and answered, "I know you need rest. It's coming. Let's prepare your successor, and then, my faithful and tired servant, there is no need for you to suffer a death. I will carry you into heaven, my chariots chaperoning you."
Elijah's Final Journey
Many Bible scholars find significance in the places God asked Elijah to visit on his final walk on earth. It's pretty neat stuff, if you ask me.
Gilgal: This is where Elijah and Elisha started during Elijah's last journey. You can find Gilgal in Joshua 4:19-24 and Joshua 5:2-9. In Gilgal, Joshua set up 12 stones to remind the Israelites that God had caused Israel to cross over the Jordan River on dry ground. They underwent their first circumcision in Gilgal, and, importantly, God rolled away the reproach of Egypt from the Israelites.
Bethel: From Gilgal, God asked Elijah to go to Bethel. Bethel means "House of God." It was at Bethel that Jacob had the dream of the ladder to heaven, with angels ascending and descending on it. As part of the dream, God promised Jacob the land to him and his offspring. See Genesis 28:10-19.
Jericho: Next, Elijah and Elisha journeyed to Jericho. Jericho was the first city the Israelites were to take after they crossed the Jordan. But the battle was not theirs to win: It would be God who would prove to them that He could be trusted. See Joshua 6, especially verse 20: "So the people shouted, and the trumpets were blown. As soon as the people heard the sound of the trumpet, the people shouted a great shout, and the wall fell down flat, so that the people went up into the city, every man straight before him, and they captured the city."
The Jordan River: Finally, God asked Elijah and Elisha to cross the Jordan, and they walked a while further before Elijah was taken up to heaven in a whirlwind. It is as if Elijah is being asked to walk the Israelites' journey in reverse. It was at the Jordan River that God miraculously parted the waters so the Israelites could pass over on dry ground. See Joshua 3, especially verses 14-17. Yes, they experienced shades of the Red Sea, when their ancestors had escaped slavery in Egypt. This was not by accident! God's plan is always good.
Just as God directed Elijah's steps, so God also leads us, working out circumstances in better and more phenomenal ways than we could ever imagine. May we, like Elijah, be willing, malleable servants, with hearts of complete surrender to Jesus.
To what unexpected places has God led you? How has He blessed this journey?
Be sure to continue with the Digging Deeper questions below for more ideas on surrendering to God.
~~~~~
To read about this account from Elisha's perspective see this devotion.
Do you need help surrendering a situation to God? Click on one of these links to access a free printable of a Prayer of Surrender!
~~~~~
Digging into God's Word: Complete Surrender
I encourage you to read 2 Kings 2:1-14 in your own Bible or with a Bible app. You'll find verses 1-3 and 11-12 printed for you below. In addition to Gilgal and Bethel, God also led Elijah and Elisha to Jericho and the Jordan River. Imagine the emotions that must have been flooding Elijah and Elisha as they walked this last circuit together.
2 Kings 2:1-3, 11-12 (ESV)
Elijah Taken to Heaven
Now when the LORD was about to take Elijah up to heaven by a whirlwind, Elijah and Elisha were on their way from Gilgal. 2 And Elijah said to Elisha, "Please stay here, for the LORD has sent me as far as Bethel." But Elisha said, "As the LORD lives, and as you yourself live, I will not leave you." So they went down to Bethel. 3 And the sons of the prophets who were in Bethel came out to Elisha and said to him, "Do you know that today the LORD will take away your master from over you?" And he said, "Yes, I know it; keep quiet."
11 And as they still went on and talked, behold, chariots of fire and horses of fire separated the two of them. And Elijah went up by a whirlwind into heaven. 12 And Elisha saw it and he cried, "My father, my father! The chariots of Israel and its horsemen!" And he saw him no more.
Digging Deeper: Complete Surrender
You will never regret this time with the Lord! As you are able, reflect on these questions or journal your thoughts. You can come back to these questions throughout the week if you don't have time to work through them in one sitting.
1. To what unexpected places has God led you? Did you follow willingly, or did you come kicking and screaming?
2. What has God taught you on your journey to unexpected places? What have you learned about God's provision and protection?
3. After a long and honest relationship with God throughout his life, in his last days Elijah followed God's voice without question. Have you surrendered the end of your life to the Lord? Do you rest peacefully, knowing you will see your Savior the moment you pass from this world? There's a whole Bible study in that question! Reflect honestly, asking God to show you His grace. These Bible passages may be of help:
[This is Paul speaking] For I am already being poured out as a drink offering, and the time of my departure has come. 7 I have fought the good fight, I have finished the race, I have kept the faith. 8 Henceforth there is laid up for me the crown of righteousness, which the Lord, the righteous judge, will award to me on that day, and not only to me but also to all who have loved his appearing. (2 Timothy 4:6-8 ESV)

[This is Jesus speaking] "Let not your hearts be troubled. Believe in God; believe also in me. 2 In my Father's house are many rooms. If it were not so, would I have told you that I go to prepare a place for you? 3 And if I go and prepare a place for you, I will come again and will take you to myself, that where I am you may be also. (John 14:1-3 ESV)
4. If you like, use these songs to worship as you ask God to give you a heart of complete surrender to Him:
Home (Chris Tomlin)
It Is Well (Kristene DiMarco/Bethel)
Almighty God (One Sonic Society)
~~~~~
Thank you for the recent Shares! If you have found this devotion helpful, please like and Share so others can hear the good news, too!
This is the last devotion in our series on Elijah. I hope your heart has been humbled and motivated to surrender to God as much as mine has! Only with God's help is such surrender possible. To start this series from the beginning, click this link: Elijah: Fully Surrendered.
~~~~~
Extra Info!
For in-depth reading about the four locations Elijah and Elisha visited, see this site. One other thing: Many people call this experience of Elijah his "translation." It's just a word they've chosen to describe the event of Elijah being taken to heaven without experiencing an earthly death.
Print