Devotion 9 in the series Favorite Bible Verses: Philippians 4:8
Does What You Think Matter? A Guilt-Free Look at Positive Thinking
Inside: What you think matters! What is the soundtrack in your mind? 3 strategies to change your mind's playlist from negative and cynical to positive and godly.
This post contains affiliate links. See our full disclosure here.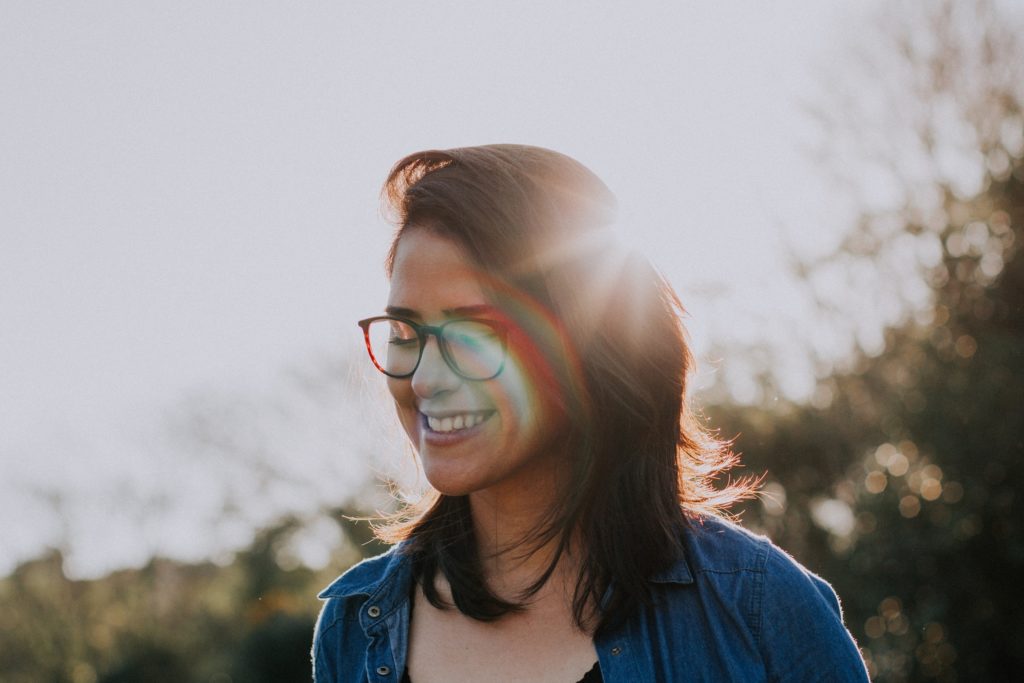 Photo by Franciele Cunha on Unsplash
I have tried to start this article a dozen times. I don't have a story or a clever way of getting into it. I was watching a pastor on TV, and not the cheesy, I-just-want-your-money type of television preacher. I had come in on the middle of his message and thought it sounded interesting. Before long, I was sitting with a pad of paper, taking notes.
The funny thing is, I thought he had been making a biblical case for thinking on good things, for positive thinking.
At the end of the message, the part where it cuts to the pastor in a studio, it became clear I had been wrong: His topic had been on strategies to overcome pornography!
Fast forward a few days, when I posted an article about the physical pain of depression on my personal Facebook page. The article was titled "I Love Jesus But I Want to Die: What You Need to Know About Suicide." I have never had any article get so many shares! Combine all of this with an uptick in articles written about anxiety and depression, many written by people who know, trust, and follow Jesus.
I realize part of what is driving this trend is that we are more in-tune with these topics and more open to talking openly about them because of the high-profile figures who have taken their own lives.
However, I believe something bigger is going on: I believe the devil has been winning on the battlefield of our minds, and I believe God has something to say about this.
The Statistics Are Staggering
40 million Americans are regular visitors to porn sites (TechAddiction).
In the United States, 25.1% of children between 13 and 18 years old have an anxiety disorder. Similarly, 40 million adults age 18 and older, or 18.1% of the population, are affected by an anxiety disorder.
In the United States, the rate of suicide from 1999 to 2016 increased 28% (National Institute of Mental Health).
Each year 44,965 people in the United States die from suicide. It is believed that for every suicide, there are 25 attempts (American Foundation for Suicide Prevention).
This article isn't really about how to give up pornography or how to combat depression that leads to suicide, because I am not an expert in those areas.
Do you know what I am an expert in? Letting a negative soundtrack play in my head.
Gulp. I never really realized this until I was listening to that pastor! He was quoting verse after verse in the Bible that talk about filling our mind with godly things, and I realized that in the background of my overfatiguing week, I had played these lyrics:
"I am so overwhelmed."
"I can't get it all done."
"I don't know if I can handle all that God has given me."
Do these thoughts sound familiar to you? What is on your mind's playlist? Is it like mine, or is yours filled with other thoughts? "I can't stand my job." "I can't take my husband anymore." "It's just not worth trying so hard anymore."
Oh, dear friend, take this in with me: Focusing on negative thoughts is not biblical, and it doesn't lead to the joy that Jesus so wants for us!
I have been so conditioned to discount pastors and teachers who promote positive thinking that I have missed the kernels of truth in their messages! I have been so wary of people who rely on positive thinking as if it holds supernatural power that I have allowed cynicism to creep into my own mind.
What Does God Have to Say About This?
Consider what the Bible says:
Finally, brothers, whatever is true, whatever is honorable, whatever is just, whatever is pure, whatever is lovely, whatever is commendable, if there is any excellence, if there is anything worthy of praise, think about these things. (Philippians 4:8 ESV)

Set your minds on things that are above, not on things that are on earth. (Colossians 3:2 ESV)
I could quote many more verses. We are going to claim Philippians 4:8 as our favorite verse this week! For sure, the Bible doesn't encourage negative or cynical thinking. Wouldn't it catch you off-guard if you read these statements in the Bible?
"If you are worried, worry a little more, because things are only going to get worse."
"There is no hope. Take cover, because salvation is not coming."
"Criticize, don't encourage. Focus your mind on the worst things possible: ugliness, lies, gossip, and every bad thing about yourself and others."
Those sound silly, don't they? Actually, they sound wrong . . . because they are!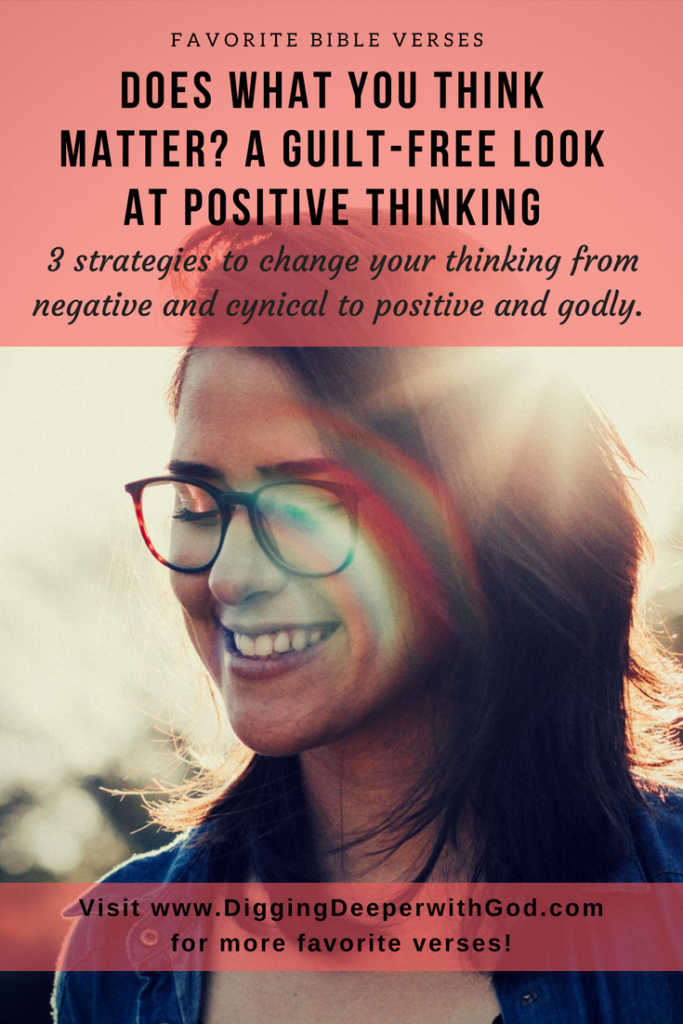 When I let my mind wander to negative thinking, I am actually not practicing biblical principles!
Let's make this clear: No part of positive thinking saves me, not one part of it! Only by Jesus' saving grace, his sacrifice on the cross, am I destined for heaven, and, honestly, I can't wait! Life here on earth is hard. I am saved by the power of the risen Lord!
Positive thinking also doesn't get me a better job, change that problem person in my life, or get my dishes or laundry done!
But Jesus has called me to live here–in this life, in this present moment–and he wants me to have "life and have it abundantly" (John 10:10 ESV). How on earth am I to do that if I am dwelling on all of the crazily bad things going on around me?
I am not saying that preventing anxiety, depression, and suicide is as easy as thinking good thoughts. Oh my, no. And this isn't a sure-fire way to combat the addiction of pornography.
However, we serve a mighty God who is able to do all things–a God who walks with us through all of the gunky stuff of life and loves us anyway! Let's fill our minds with that good thought and keep our eyes open for how God is working in our lives!
Three Strategies to Transform Your Mind
What you think matters. If the soundtrack in your mind is negative or cynical, how might you change it? I propose three strategies:
Fill
Direct
Guard
Fill Your Mind with the Right Things
To remove negative or even wrong things from your mind, you have to fill your mind with the right things.
Does what you put in your mind pass Paul's litmus test from Philippians 4:8? The music you listen to, the movies you watch, the friends you keep, the thoughts you entertain: Are they honorable, just, pure, lovely, commendable, excellent, or worthy of praise?
Fill your mind with the right things, and they'll push the negative thoughts aside.
Direct Your Mind to the Right Things
What if you have committed to thinking on such things, but you find your mind in a negative spiral. What then? I suggest at this point we follow the example of the prophet Jeremiah. Read Lamentations 3:21-24 and notice how he directs his mind or soul to focus on God's faithfulness:
21 But this I call to mind,
and therefore I have hope:
22 The steadfast love of the Lord never ceases;
his mercies never come to an end;
23 they are new every morning;
great is your faithfulness.
24 "The Lord is my portion," says my soul,
"therefore I will hope in him." (Lamentations 3:21-24 ESV)
When those negative thoughts send you into a spiral, take charge: Direct your thoughts.
Guard Your Mind and Wage War Against Evil Thoughts
So you've committed to fill your mind with the right things, and you're directing your mind to think on those good things. Now keep your position strong by guarding your mind and, when necessary, waging war against thoughts that could take you down. Remind yourself who you are warring against, and put on the armor of God, remembering that he has already won the battle!
3 For though we walk in the flesh, we are not waging war according to the flesh. 4 For the weapons of our warfare are not of the flesh but have divine power to destroy strongholds. 5 We destroy arguments and every lofty opinion raised against the knowledge of God, and take every thought captive to obey Christ, 6 being ready to punish every disobedience, when your obedience is complete. (2 Corinthians 10:3-6 ESV)
Fill. Direct. Guard, even wage war, against evil thoughts.
As you do this, don't give positive thinking more credit than it deserves: All those good things? They come from the Father:
Every good gift and every perfect gift is from above, coming down from the Father of lights, with whom there is no variation or shadow due to change. (James 1:17 ESV)
Isn't it wonderful that God loves us so?
What phrases are in the soundtrack of your mind? Which strategy will you use to think on godly things today?
Digging Deeper: What You Think Matters
If you want to dig deeper into God's Word, work through these questions now or throughout the week.
1. What plays on the soundtrack of your mind? As you go about your day, write down some of the seemingly random thoughts that cross your mind. Do any of the lyrics (your thoughts) surprise you? What you think matters!
2. Which strategy do you want to focus on: fill, direct, or guard? Make a plan for how you will focus on this strategy for one day.
3. What is making you anxious today? A few strokes before his challenge to think only on good things, Paul encouraged us: "do not be anxious about anything, but in everything by prayer and supplication with thanksgiving let your requests be made known to God" (Philippians 4:6 ESV). Bring those requests to God. 
My prayer is that you will experience the peace that passes all understanding: "And the peace of God, which surpasses all understanding, will guard your hearts and your minds in Christ Jesus" (Philippians 4:7 ESV).
Praise and Worship
Shift your perspective as you worship with these songs:
It's a Beautiful Day (Jamie Grace)
Overcomer (Mandisa) This is her official music video, featuring famous cancer survivors.
Beautiful Savior (published by John Wesley Slider)
Wonderful Merciful Savior (Selah)
Catch Up on Favorite Bible Verses
Want to read more about your favorite Bible verses? Follow these links!
Psalm 118:24 (This is the day . . . we will rejoice and be glad in it)
Lamentations 3:21-24 (Yet this I call to mind, and therefore I have hope)
Luke 2:35 (A sword will pierce even your own soul)
Philippians 4:13 (I can do all things through Christ who strengthens me)
Romans 1:16 (I am not ashamed of the Gospel)
Jeremiah 29:11 (For I know the plans I have for you)
John 10:27-28 (My sheep hear my voice)
Numbers 6:24-26 (The LORD bless you and keep you)
For Your Home or Office
I love this style of pallet art!
A beautiful set of 4: several favorite verses here.
A round, chalkboard-style plaque!
Print