Devotion 5 in the series Oh Give Thanks: 2 Samuel 7 - David's Prayer of Gratitude
What to Do When You Don't Get What You Want – David's Prayer of Gratitude
Sometimes, you don't get what you want, and when you look in the rear view mirror, you can't help but fall to your knees in thanksgiving that you actually got something better.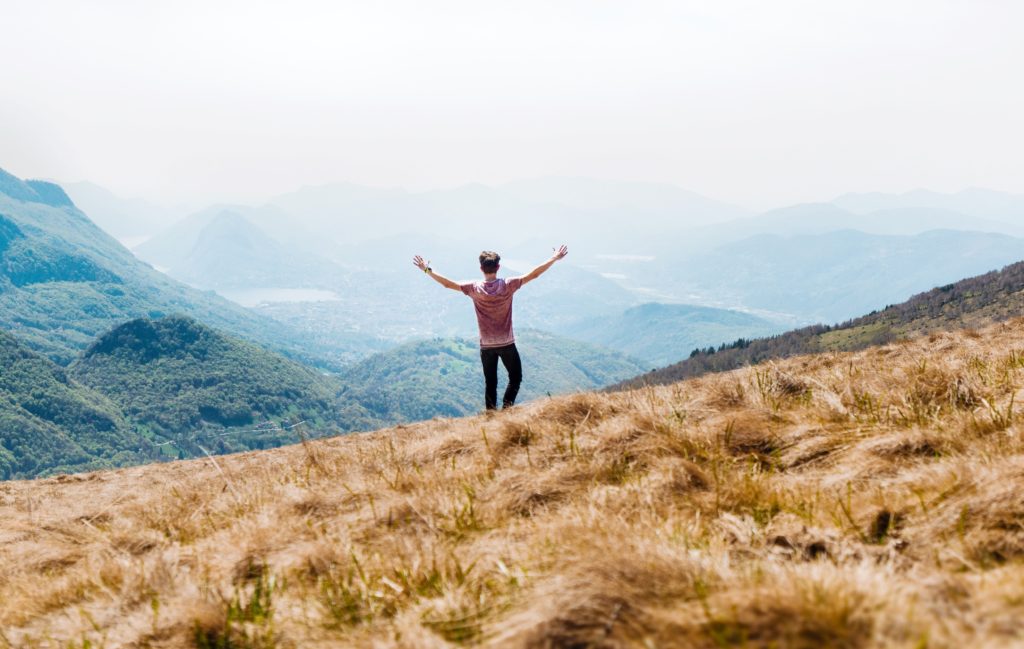 Today's passage provides a remarkable link between Thanksgiving and Christmas. David gives thanks for a phenomenal promise–the promise of an everlasting kingdom, which would come through the Messiah, Jesus, whose earthly birth we celebrate at Christmas.
The funny thing is, David did not get what he wanted.
King David wanted to build a temple in which to house the Ark of the Covenant. The plan made perfect sense, and who better to do it than the man who had brought the ark back to Jerusalem?
But God actually told him no. David would not get to build the temple.
I wonder what David's expression showed at that moment? Did he furrow his brow or consider stomping away? His heart must have sunk.
What do you do when a plan you had set in motion gets put on hold or when things don't go your way? Those are the moments I wish I was a preteen (not really) and could legitimately stomp away. Sometimes I am hurt or disappointed. Often, I'm angry. Why couldn't things go my way? I had it all planned out!
David stood still, listening to the prophet deliver the disappointing news. God did not want him to build a temple.
Instead, God had a different plan. David kept listening. Not only would David's son, Solomon, have the privilege of building the temple, but God promised David that He would make David a house. A house? Yes. What did that mean? God planned to establish the throne of David's kingdom forever.
The Messiah would come through the line of David, a son of Jesse, and therefore David's kingdom would last forever.
How could that be?
Not so long before, David had been tending sheep in a field–not exactly king material. Throughout David's life, God had chosen a better, unexpected path for him.
In what I imagine to be a swirling moment of realization, David understood that the temple didn't matter as much as the better and eternal plan God had for him and his house. He was so overcome with thanksgiving that he dropped to his seat before the LORD and said, "Who am I, O LORD God, and what is my house, that you have brought me thus far?"
Nothing in David's life had been of his own doing. God had done it all. Oh, My Goodness, was this a big promise.
David had the advantage of hearing God's better plan right then and there. That is not always the case with us. Our realization may come in hindsight. When you look in the rear view mirror, you may find that you actually got something better than what you wanted, and then you'll not be able to help but fall to your knees in thanksgiving.
When you don't get what you want, what is your first reaction? How about your second and third? Yeah, me too. I'm not exactly a model of giving thanks amidst disappointment.
Let's resolve together to trustingly anticipate God's better answer when we don't get what we want.
~~~~~
Read David's prayer of gratitude below, and enjoy your quiet moments with the Lord as you work through the Digging Deeper questions.
To join us for these weekly devotions, sign up here.
To start this series from the beginning, click here (but be sure to come back to this page to finish today's devotion!)
2 Samuel 7 (ESV)
I encourage you to read the entire chapter. Portions are printed here for you.
The Lord's Covenant with David
7 Now when the king lived in his house and the LORD had given him rest from all his surrounding enemies, 2 the king said to Nathan the prophet, "See now, I dwell in a house of cedar, but the ark of God dwells in a tent." 3 And Nathan said to the king, "Go, do all that is in your heart, for the LORD is with you."
4 But that same night the word of the LORD came to Nathan, 5 "Go and tell my servant David, 'Thus says the LORD: Would you build me a house to dwell in? 6 I have not lived in a house since the day I brought up the people of Israel from Egypt to this day, but I have been moving about in a tent for my dwelling.
11b Moreover, the LORD declares to you that the LORD will make you a house. 12 When your days are fulfilled and you lie down with your fathers, I will raise up your offspring after you, who shall come from your body, and I will establish his kingdom. 13 He shall build a house for my name, and I will establish the throne of his kingdom forever.
16 And your house and your kingdom shall be made sure forever before me. Your throne shall be established forever.'" 17 In accordance with all these words, and in accordance with all this vision, Nathan spoke to David.
David's Prayer of Gratitude
18 Then King David went in and sat before the LORD and said, "Who am I, O LORD God, and what is my house, that you have brought me thus far? 19 And yet this was a small thing in your eyes, O LORD God. You have spoken also of your servant's house for a great while to come, and this is instruction for mankind, O LORD God! 20 And what more can David say to you? For you know your servant, O LORD God! 21 Because of your promise, and according to your own heart, you have brought about all this greatness, to make your servant know it. 22 Therefore you are great, O LORD God. For there is none like you, and there is no God besides you, according to all that we have heard with our ears."
~~~~~
Digging Deeper: When You Don't Get What You Want
Enjoy this precious time with the Lord. Reflect on or journal about the following questions, listening for what God has to say to you.
1. When you don't get what you want, what is your first reaction? Be honest, and if needed confess this response to God. Consider steps to take the next time you don't get what you want. These might be spiritual things like being still, waiting, and praying, or practical approaches like trying to not slam doors, throw pillows, or stomp away.
2. Have you experienced not getting what you wanted but receiving something different? It might take a while to bring these to mind. If you received something clearly better than what you wanted, spend some time thanking God for His better plan.
I want to acknowledge that in our human perspective, the "something different" might not seem like "something better" just yet. In fact, we might not ever view it as something better while on this side of heaven. If this is the case for you, your prayers might focus around asking God to help you appreciate what you have or helping you release your plans to Him.
3. Sing your requests to the Lord. It is always amazing what God brings to my mind for these songs. Today, in this very moment, He brought to mind an old hymn and a recent favorite. Take your pick, or appreciate both for how they strengthen your heart today.
Take My Life and Let It Be (sacred choral arrangement)
Take My Life (And Let It Be) (Chris Tomlin)
Multiplied (I have surrendered to your design) (NEEDTOBREATHE)
~~~~~
I'm so glad you are here. Sign up here to Meet With God and Grow in Faith. Do you want more than a 5-minute devo or a get-me-out-of-here-fast sermon? Do you want to know, really know, that Jesus is with you every step of the way? Do you want a deep, dynamic relationship with the Lord? If so, you've come to the right place! Sign up here to have these devotions delivered straight to your inbox.
Print