Devotion 4 in the series Lead Me to the Rock: Jeremiah 2 and Isaiah 55
The Best Way to Overcome the Grass Is Greener Syndrome
We might not fashion idols out of metal or stone, but we look to people, circumstances, or objects other than the Lord to fulfill our needs, and this leads to discontentment. How can we overcome the grass is greener syndrome?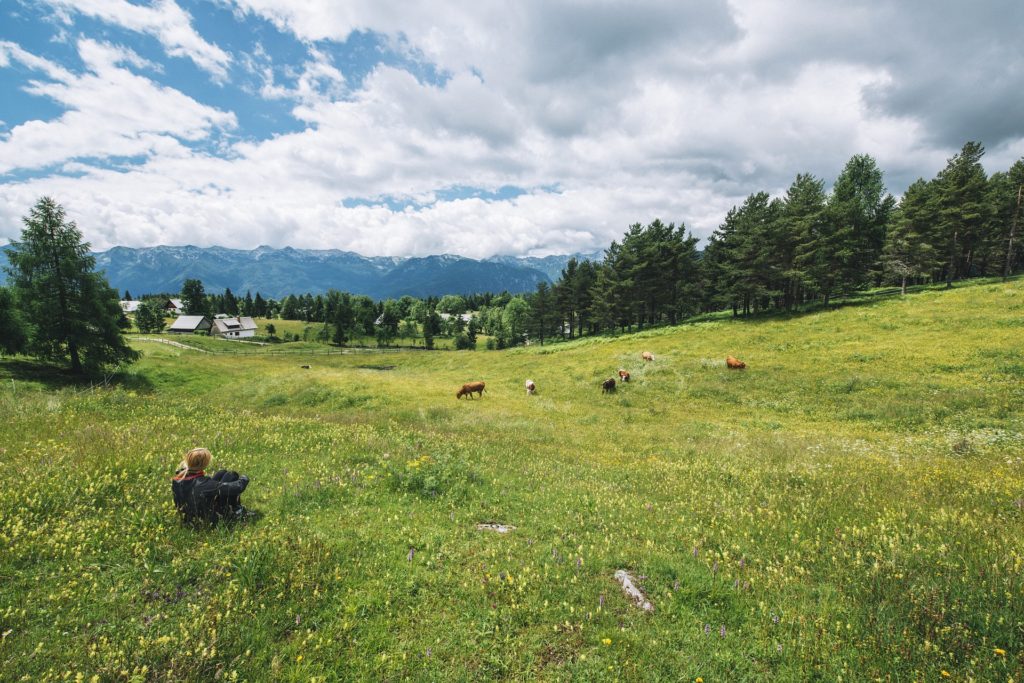 As we round the corner in the series Lead Me to the Rock, we take a hard turn today and look at a less comforting way rock or stone is used in Bible. Yes, God is our rock, in whom we take refuge. With great faithfulness, God delivers us and protects us, even hides us in the cleft of a rock. Most certainly, Jesus is the rock of our salvation.
But today we look at the times in our lives when we fix our eyes on things other than God, when we worship rocks other than the Rock.
We might roll our eyes at the Israelites of the Old Testament, who built calves of gold and worshiped them. We read verses like Habakkuk 2:18-19 (ESV) and chuckle at the foolishness of fashioning an idol from metal or stone:
18 "What profit is an idol
when its maker has shaped it,
a metal image, a teacher of lies?
For its maker trusts in his own creation
when he makes speechless idols!
19 Woe to him who says to a wooden thing, Awake;
to a silent stone, Arise!
Can this teach?
Behold, it is overlaid with gold and silver,
and there is no breath at all in it.
Seriously? They thought something they made with their own hands could answer their calls for help?
And then, ironically, we do the same thing. We just call it something different. We do not bow down to a physical rock carved in the shape of an animal or large happy man, so we think we've passed the litmus test of the commandment to not worship a graven image or any god other than God.
Yet, we stand and look at everyone and everything around us and truly believe the grass is greener:
If my house were cleaner, I'd feel more content.
If only I had sons in addition to my daughters, my life would be complete.
If I had that other job, I could make more money and everything would be easier.
A different, better marriage would fulfill all my needs.
Getting married would make me happy and solve all my problems.
Hungry and thirsty for earthly gain, our attention shifts away from God and from all that He has given us, and we obsess over that which we do not have. We think about it, chew on it, . . . worship it.
We might not fashion idols out of metal or stone, but we look to people, circumstances, or objects other than the Lord to fulfill our needs, and this leads to discontentment.
How can we overcome the grass is greener syndrome?
Isaiah presents a solution:
"Come, everyone who thirsts,
come to the waters;
and he who has no money,
come, buy and eat!
Come, buy wine and milk
without money and without price.
2 Why do you spend your money for that which is not bread,
and your labor for that which does not satisfy?
Listen diligently to me, and eat what is good,
and delight yourselves in rich food.
3 Incline your ear, and come to me;
hear, that your soul may live." (Isaiah 55:1-3 ESV)
How can we overcome the grass is greener syndrome? By turning to God rather than grass is greener circumstances for our contentment and security. By prioritizing our time with the Lord over every other thing (this is hard!). By trusting in God, who has our eternal well-being in mind, rather than trusting in people or fleeting emotions.
Oh, Lord, our spirit longs for communion with you, but our will is weak. Forgive us, renew us, and help us to walk with you.
Digging into God's Word: Overcoming the Grass Is Greener
For forty years, Jeremiah prophesied that the Israelites would be taken into captivity, and then he watched it occur. He witnessed the fall of Jerusalem and was himself forcibly taken to Egypt, where it is believed he died. Listen to Jeremiah's anguish over the Israelites' turning away from God, so much that they even worshiped gods made of stone (verse 27). Before we cast judgment against the Israelites, we must consider what people, circumstances, or objects we worship above the Lord.
Portions of Jeremiah 2 (ESV)
11 Has a nation changed its gods,
even though they are no gods?
But my people have changed their glory
for that which does not profit.
12 Be appalled, O heavens, at this;
be shocked, be utterly desolate,
declares the LORD,
13 for my people have committed two evils:
they have forsaken me,
the fountain of living waters,
and hewed out cisterns for themselves,
broken cisterns that can hold no water.
26 "As a thief is shamed when caught,
so the house of Israel shall be shamed:
they, their kings, their officials,
their priests, and their prophets,
27 who say to a tree, 'You are my father,'
and to a stone, 'You gave me birth.'
For they have turned their back to me,
and not their face.
But in the time of their trouble they say,
'Arise and save us!'
28 But where are your gods
that you made for yourself?
Let them arise, if they can save you,
in your time of trouble;
for as many as your cities
are your gods, O Judah.
29 "Why do you contend with me?
You have all transgressed against me,
declares the LORD.
Digging Deeper: Overcoming the Grass Is Greener
Cherish this time with the Lord. Reflect on or journal about the following questions, listening for what God has to say to you.
1. In what area of your thought life do you struggle with believing the grass is greener than where you are standing? What "rock" are you worshiping? What "rock" has your attention?
2. Consider why you might be looking to a person, circumstance, or principle other than the Lord for your contentment. Turn to Philippians 4:11-13. From whom does Paul draw his strength to be content in all circumstances?
3. To fix your eyes on the only rock worthy of worship, pray Psalm 63:1-4 (ESV):
1 O God, you are my God; earnestly I seek you;
my soul thirsts for you;
my flesh faints for you,
as in a dry and weary land where there is no water.
2 So I have looked upon you in the sanctuary,
beholding your power and glory.
3 Because your steadfast love is better than life,
my lips will praise you.
4 So I will bless you as long as I live;
in your name I will lift up my hands.
4. Let these songs help you fix your eyes on Jesus, who fulfills our every need. Choose one or all of the songs to listen to, or come back to these songs throughout the week.
Testify (Needtobreathe)
Walk By Faith (Jeremy Camp)
Thirst (Phil Wickham)
Beautiful Name (Hillsong)
~~~~~
Find Past Series
You can find Past Devotions from other series on the website under the Devotions menu or at www.diggingdeeperwithgod.com/past-devotions/.
Two of the most popular series have been Hope Springs Eternal and All In: A Study of Elisha.
~~~~~
Free Printable on Psalm 103
A few weeks ago, we finished a series on Leaving a Legacy, which focused on living out the characteristics that God models for us in Psalm 103. For a printable on What Psalm 103 Tells Us About God, click this link:
What Psalm 103 Tells Us About God
~~~~~
I'm so glad you are here! Sign up here to Meet With God and Grow in Faith.
Join us to have these devotions delivered straight to your inbox.
Print