Devotion 5 in the series Elijah: Fully Surrendered
Persistent Prayer: 3 Things You Need to Know
Inside: Persistent prayer doesn't always lead to immediate answers. So why keep praying? Discover 3 reasons to not give up. (Plus: A free printable with a prayer of surrender!)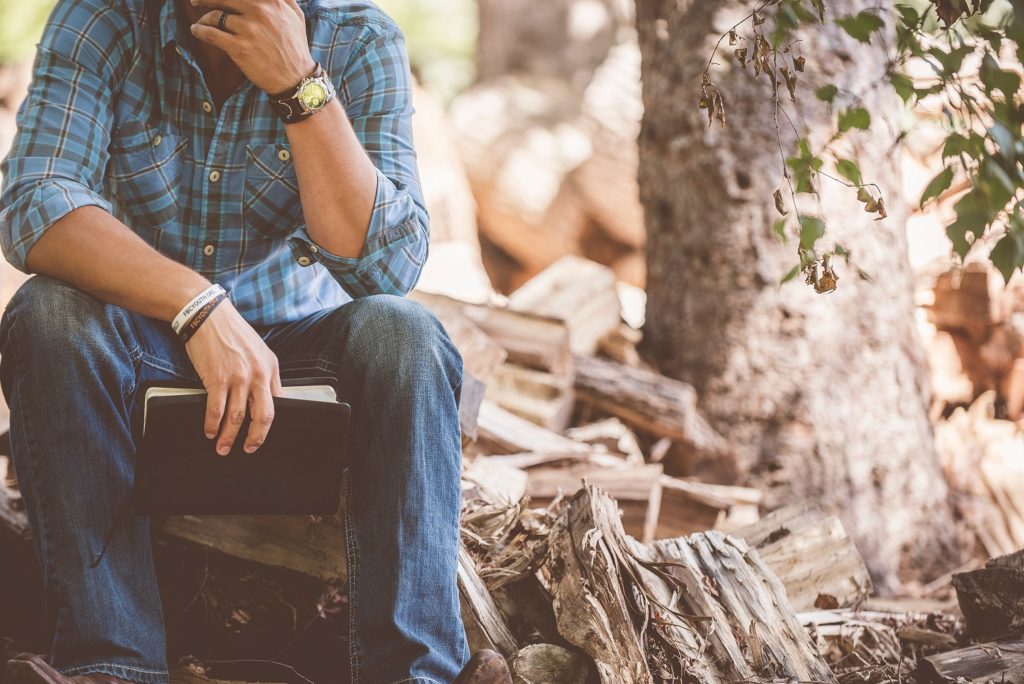 Photo by Ben White on Unsplash
Earlier this year, our household was hit with a crisis of immense proportions. Hearts sank. Stomachs knotted. Breath caught in our throats. How could this even be? Why was God letting this happen?
I will admit to you that in one moment, I stalwartly recalled God's former rescues, declaring He would do it again, and in the next moment, I crouched by my bed, tears streaming, arms stretched across my comforter, pleading with God to take this away.
Six days later, it was over. Done. Gone. Resolved. I still shake my head at the wonder of God's mighty hand.
Six days. What could have afflicted us for decades, God took care of in six days.
Yet, we have all experienced the painful reality that God does not always answer prayer quickly. We pray and pray and pray and pray and pray, and . . . nothing. We sense no response from heaven. If God loves us so much, why is He leaving us dangling like this? Doesn't He see what we need? Why is He not doing anything about it?
Today in our 5th devotion on Elijah: Fully Surrendered, we look at one aspect of the most famous account in Elijah's ministry. Within the riveting drama of Elijah challenging the prophets of Baal, Elijah prays two prayers: One prayer is met with an instant, all-consuming answer from God. But the other prayer is not. In fact, Elijah checks for the answer seven times.
You might be thinking seven isn't bad! It is possible you have prayed for something hundreds of times and have yet to see God answer. In fact, you may have given up praying for that need. I am with you on that. When I don't see results, I forget about God's faithfulness, I start to think He is not listening or doesn't care, and my enthusiasm for that once passionate prayer wanes.
We can learn a lot from Elijah. Let's dive in:
Three Truths About Persistent Prayer (Plus a Bonus Fourth!)
It's worth reading the whole encounter in 1 Kings 18. Elijah challenged 450 prophets of Baal to call down fire from their god to burn up their sacrifice. The prophets of Baal cried from morning until noon, and no one answered. Their sacrifice remained on the altar, embarrassingly untouched.
Then these prophets of a nonexistent god cut and slashed themselves until they bled, begging for their unhearing god to take notice. Still no answer.
But the God of Abraham, Isaac, and Jacob, the one true triune God, He had other plans.
1. God hears our prayers
Elijah called the people near. He carefully repaired the altar, dug a trench around it, and placed a bull on it. To punctuate the truth of the living God, Elijah drenched the altar with water three times, such that the water ran down the altar and filled the trench.
It was time to pray. Look at how fast God answered, from verse 37 to verse 38:
36 And at the time of the offering of the oblation, Elijah the prophet came near and said, "O LORD, God of Abraham, Isaac, and Israel, let it be known this day that you are God in Israel, and that I am your servant, and that I have done all these things at your word. 37 Answer me, O LORD, answer me, that this people may know that you, O LORD, are God, and that you have turned their hearts back." 38 Then the fire of the LORD fell and consumed the burnt offering and the wood and the stones and the dust, and licked up the water that was in the trench. 39 And when all the people saw it, they fell on their faces and said, "The LORD, he is God; the LORD, he is God."
Just as God heard my prayers when it seemed life would never be the same, and answered faster than ever expected, so He heard the prayer of Elijah and responded with immediate fervor.
Likewise, God has heard the prayers of His people through the centuries:
But truly God has listened;
he has attended to the voice of my prayer. (Psalm 66:19 ESV)
Look at this promise that God will hear our prayers:
For the eyes of the Lord are on the righteous,
and his ears are open to their prayer. (1 Peter 3:12a ESV)
Yes, assuredly yes: God hears our prayers.
2. God doesn't always answer right away
When Elijah asked God to burn up the sacrifice on the altar, to prove that He alone was God, God answered immediately and emphatically:
Then the fire of the LORD fell and consumed the burnt offering and the wood and the stones and the dust, and licked up the water that was in the trench. (1 Kings 18:38 ESV)
But only a few minutes later, when Elijah sought rain after a lengthy drought, God seemed silent:
And Elijah went up to the top of Mount Carmel. And he bowed himself down on the earth and put his face between his knees. 43 And he said to his servant, "Go up now, look toward the sea." And he went up and looked and said, "There is nothing."
Nothing. Not one thing. God had promised rain in verse 1! Now God's silence was palpable.
This is when we are apt to shake our heads or maybe our fists at God. We consider giving up. Our prayers turn dry.
But there's reason to keep praying!
3. God's ultimate answer may spring from the tiniest ray of hope
God is always at work in our lives, whether we know it or not. God had promised rain on the land, and yet when Elijah first prayed for it, absolutely no sign of rain appeared, not one iota of a rain cloud.
We often believe Elijah prayed again and again, and he might have. But what the text really says is that he sent his servant to look for a sign of rain, presumably a rain cloud, seven times. Six times the servant saw nothing. No sign of rain. Yet, God was at work!
And he said, "Go again," seven times. 44 And at the seventh time he said, "Behold, a little cloud like a man's hand is rising from the sea." And he said, "Go up, say to Ahab, 'Prepare your chariot and go down, lest the rain stop you.'" 45 And in a little while the heavens grew black with clouds and wind, and there was a great rain.
Even at the seventh time, all that the servant could report was a little cloud the size of a man's hand, rising from the sea.
But that little cloud signified hope! Elijah knew!
Do we? When we see a tiny speck of evidence of God at work, do we acknowledge it? Do we gasp with gratitude for all that God is doing? Oh, let us grasp onto that tiny ray of hope and trust in our all-powerful God!
From Matthew Henry's commentary:
A little cloud at length appeared, which soon overspread the heavens, and watered the earth. Great blessings often arise from small beginnings, showers of plenty from a cloud of span long. Let us never despise the day of small things, but hope and wait for great things from it. From what small beginnings have great matters arisen!
4. Sometimes we will not receive the answer we pray for
I don't want to leave this devotion without acknowledging that sometimes we don't get the answer we pray for. Shocker, right? Why would God not answer in the way we pray? The reasons are plentiful, more than what I have listed here:
Despite what we think is best, God might have a better answer in mind, even if it does not seem better to us.
When we don't receive the answer we pray for, it is possible we are not praying within God's will. Over time, God may turn our hearts and minds such that we will pray within His will, and then we will see the blessed rain shower from heaven. This is what we are asking for when we pray, "Thy will be done."
God will not answer our prayer if it stems from evil intent. Notice the last part of 1 Peter 3:12:
For the eyes of the Lord are on the righteous,
and his ears are open to their prayer.
But the face of the Lord is against those who do evil. (1 Peter 3:12 ESV)
Finally, if we are not walking with the Lord, we cannot expect God to acknowledge our prayer, much less answer it:
The Lord is far from the wicked,
    but he hears the prayer of the righteous. (Proverbs 15:29 ESV)
Don't Give Up Praying!
Jump a minute in your head to the New Testament. Remember Zechariah and Elizabeth, the eventual parents of John the Baptist? In their early years, they had prayed for a child. Yet Elizabeth had remained barren.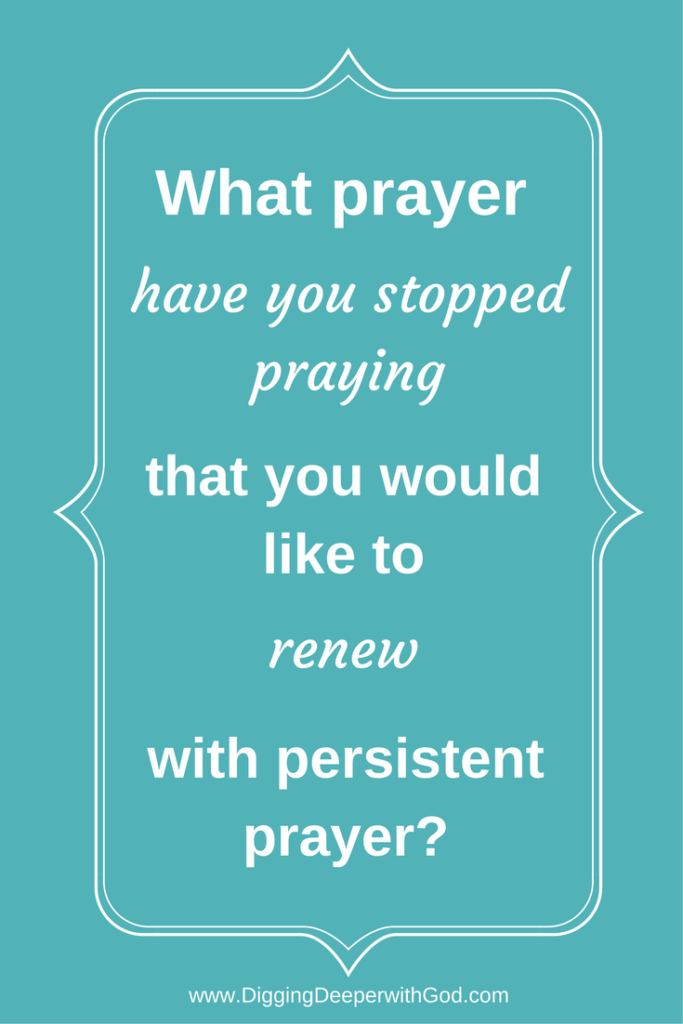 I am convinced they had long stopped praying for a child, for they were well past childbearing years. There comes a point when you figure it's just not going to happen.
Into their resigned lives, the angel Gabriel delivered the news that their prayer had been heard all along. Heaven had heard! Their prayer had not been forgotten!
The angel said to him, "Do not be afraid, Zechariah, for your prayer has been heard, and your wife Elizabeth will bear you a son, and you shall call his name John. (Luke 1:13 ESV)
Neither are your prayers forgotten. From the fully surrendered Elijah, we learn these truths:
God hears our prayers.
God doesn't always answer right away.
God's ultimate answer may spring from the tiniest ray of hope.
What prayer have you stopped praying that you would like to renew with persistent prayer?
~~~~~
Do you need help surrendering your situation to God? Click on one of these links to access a free printable of a Prayer of Surrender!
~~~~~
For questions to guide your quiet time, scroll down to the Digging Deeper questions.
Digging into God's Word: God Hears Our Persistent Prayer
I encourage you to start at 1 Kings 18:20 in your own Bible. If you prefer, you can use this link to read it online. Notice, really notice, the contrast between the two times that Elijah prayed. Highlight, circle, star, wholly ingest verses 43 and 44. God hears our persistent prayer!
Digging Deeper: Learning to Persist in Prayer
Enjoy this wonderful time with the Lord! As you are able, spend time with God, reflecting on these questions or journaling your thoughts.
1. Read 1 Kings 18:38 and the verses around it: "Then the fire of the LORD fell and consumed the burnt offering and the wood and the stones and the dust, and licked up the water that was in the trench." When has God worked powerfully in that way in your life? Reflect on God's goodness and faithfulness as evidenced during that time.
2. When Elijah prayed for rain but none came at first, what do you think kept him looking for God's answer? How can you apply this same principle to your prayer life?
3. What prayer have you stopped praying that you would like to renew with persistent prayer? Pray about that now, asking God to help you trust Him and to help you surrender to Him. If you like, you can use the prayer of surrender below, or print out your free printable of it here (8.5 X 11 version, half-page version).
Dear Lord, I come to you now, in need of your wisdom and direction. I bring to you this situation [name it, describe it]. . . . I open my hands and my heart to hear from you [open your hands]. Help me to hear your voice clearly. . . . What you have asked me to do, help me to do with faith and courage. What you have asked me to release, help me to release to you and not grab back as if I know better than you. I surrender to your will. Give my feet your direction and my will your will instead. In Jesus' name, Amen.
4. As you worship with these songs, let them encourage you in persistent prayer:
Everlasting God (Strength Will Rise; Lincoln Brewster)
O' Lord (I Will Stand My Ground Where Hope Can Be Found; Lauren Daigle)
Let It Rain (Jesus Culture)
~~~
Thank you for the recent Shares! If you have found this devotion helpful, please like and Share so others can hear the good news, too!
To start this series from the beginning, click this link: Elijah: Fully Surrendered.
Print