Devotion 2 in the series Leaving a Legacy: Psalm 103:6
How to Leave an Authentic Legacy of Justice for the Oppressed
"The care of God for the oppressed is a marked feature of Holy Scripture,"* yet do I bear that out in my life? Some days my goal for my legacy barely makes it past hoping people don't remember me as cranky or always running late. Other days, I am inspired to leave a legacy of forgiveness and compassion, and of deep gratitude for Jesus' love. Where do you find yourself today?
*Pulpit Commentary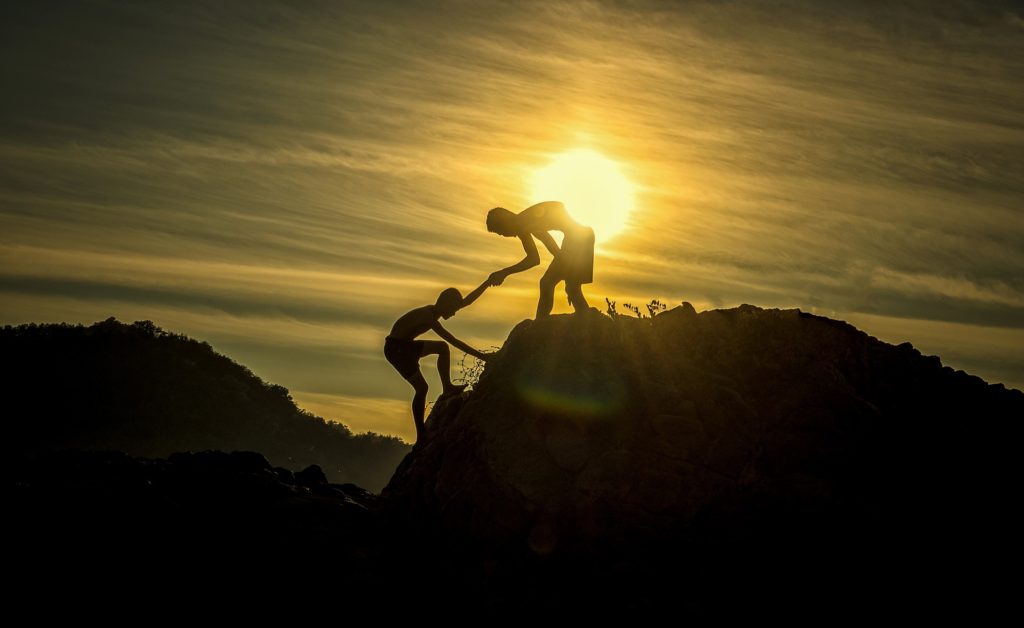 The sun had nearly set, sinking low behind me, as I drove home from a meeting that had run late. The sky ahead was deep navy, about to turn completely black. My headlights reflected off a car stopped on the shoulder. Not twenty feet in front of the car, a young man and woman were walking away from the car.
The road they walked was vacant: no businesses, very little traffic. Their goal had to be the gas station several miles ahead, near the interchange.
It was getting cold.
They didn't have coats on, and they also didn't seem to be closely connected. No arm around her waist. No body language to indicate he would keep her warm.
I used to stop and help people by the side of the road all the time. There had been the older couple who simply were confused at which highway to take. The hoot of the women with their funny straw hats trying to flag down semis as they returned from a political gathering. The young soccer player who needed her dad. The mom who just needed a hug after getting into a fender bender.
It had been a long time since I had opened myself to the experience.
The long stretch of road, an on-ramp, and a span of highway later, God had finally pounded on my heart long enough. I called home to explain what I was going to do, because if this ended up on the six o'clock news, I wanted my last whereabouts known.
I took an exit, headed back north, exited again, drove a length toward where the sun had set, saw the couple walking, and found a place to make a U-turn in order to get on their side of the median. I hid my phone and my money under the driver's seat.
I pulled in behind them and said, "It's too cold for you to walk all that way. I can give you a ride."
They quickly jumped into my car without saying much, the girl in the passenger seat, the guy in the back. I confirmed that they were heading toward the gas station a few miles down the road. The girl made a call on her phone. They didn't talk to me. I pulled up to the well-lit glass front of the gas station and dropped them off. The girl told the person on the other end of the phone their location. They might have mumbled a quick thank-you. I don't remember. There were no gushing expressions of we-don't-know-what-we-would-have-done-without-you.
I drove away satisfied that the young couple was safe . . . and unsettled at all of the judgments I had made.
Why had it taken me so long to resolve to help this couple?
The six o'clock news. Really? Why had I felt compelled to call home and explain what I was about to do?
Why had I hidden my money and my phone?
I wonder if you're thinking I followed good instincts, and I thank you for rationalizing this with me. But what has happened to our instinct to reach out in compassion to people in need? Where have we left our sense of justice for the oppressed? Since when are we not willing to immediately help a hurting person in desperate need regardless of their inclination to express thanks?
It might be a stretch to call this young couple oppressed, but if nothing else, their situation was oppressive in the short term. Their car was stalled. The weather was cold. It was dark, and they were several miles from a populated area.
This marks the second devotion in our series on Leaving a Legacy. (To start the series from the beginning, click here.)
Today, we look at how God works righteousness and justice for the oppressed, and we are struck with the nail between the eyes:
Am I leaving a legacy of caring for the oppressed?
Psalm 103 describes characteristics of our Heavenly Father, characteristics I want to have, too. We see all of them played out in Jesus' life — God manifest in flesh, who walked on earth with us.
In this series, we are
meditating on Psalm 103, where we see the characteristics of God,
discovering how Jesus illustrated those same characteristics, and
evaluating whether the legacy we are leaving is one that flows from God.
Take a look at verse 6 from Psalm 103, and complementary verses from Isaiah 1 and Psalm 9.
Digging into God's Word: God Works Justice for the Oppressed
Psalm 103:6 (ESV)
The LORD works righteousness
and justice for all who are oppressed.
Isaiah 1:17 (ESV)
learn to do good;
seek justice,
correct oppression;
bring justice to the fatherless,
plead the widow's cause.
Psalm 9:9 (ESV)
The LORD is a stronghold for the oppressed,
a stronghold in times of trouble.
The Israelites
We are also reminded of a pivotal moment in history, when God heard the cry of the Israelites, who were being oppressed by the Egyptians. God brought the Israelites out of slavery and into the land He had promised (Exodus 2:23-25, Exodus 3:9, Judges 6:9).
The Pulpit Commentary states it well: "The care of God for the oppressed is a marked feature of Holy Scripture."
Jesus Cares for the Oppressed
Time and again, Jesus reached out His hand to care for the oppressed. When speaking of the End Times, He challenged His followers to do likewise:
34 Then the King will say to those on his right, 'Come, you who are blessed by my Father, inherit the kingdom prepared for you from the foundation of the world. 35 For I was hungry and you gave me food, I was thirsty and you gave me drink, I was a stranger and you welcomed me, 36 I was naked and you clothed me, I was sick and you visited me, I was in prison and you came to me.' 37 Then the righteous will answer him, saying, 'Lord, when did we see you hungry and feed you, or thirsty and give you drink? 38 And when did we see you a stranger and welcome you, or naked and clothe you? 39 And when did we see you sick or in prison and visit you?' 40 And the King will answer them, 'Truly, I say to you, as you did it to one of the least of these my brothers, you did it to me.' (Matthew 25:34-40 ESV)
Do we, who have been redeemed from the oppression of our sin by the Savior of the world, show justice and care for the oppressed?
Digging Deeper: Am I Leaving a Legacy of Justice for the Oppressed?
Treasure this time with the Lord. Reflect on or journal about the following questions, listening for what God has to say to you.
1. People can be oppressed by governments, economics, unjust laws, and prejudices. Do any of these strike a chord with you? We live in difficult times, with situations on every continent that would seem to demand our attention. God doesn't ask us to solve every problem. He asks us to take notice of what He has laid in front of us–what He has put on our individual heart. What group or which people has God brought to mind as you've read this devotion? How can you reach out in care for the people God has brought to mind?
2. People can also be oppressed by the stuff of life: Cars that break down, marriages that fall apart, finances that crumble. Perhaps health problems or self-esteem that has been bruised by others' words. Does anyone come to mind who is facing one of these situations? How can you reach out in care for this person?
3. Thank God today for rescuing you from the oppression of sin and the devil. If we confess our deep failings to the Lord, He forgives us of our sins and cleanses us from all unrighteousness (1 John 1:9). Thank you, Jesus! Thank you.
4. Continue memorizing Psalm 103 with me. We worked on verses 1 to 5 last week. This week, we'll add verses 6 to 10:
6 The LORD works righteousness
and justice for all who are oppressed.
7 He made known his ways to Moses,
his acts to the people of Israel.
8 The LORD is merciful and gracious,
slow to anger and abounding in steadfast love.
9 He will not always chide,
nor will he keep his anger forever.
10 He does not deal with us according to our sins,
nor repay us according to our iniquities.
5. If you want, sing with or listen to these songs, and contemplate how they relate to leaving a legacy of caring for the oppressed.
Hosanna (Break My Heart for What Breaks Yours) (Hillsong)
Give Me Your Eyes (Brandon Heath)
Word of God Speak (MercyMe)
~~~~~
Extra Info!
Earlier I mentioned that God rescued the people of Israel from under the oppression of slavery in Egypt. But it didn't come fast. We hear of terrible oppression today: people living under totalitarian rule, famines that are unresolved, wars that leave families without homes and safety.
Maybe you are experiencing oppression in your own life: abuse at home, financial hardship, or oppression in the workplace.
Where is God? What is taking Him so long?
Barnes' Notes on the Bible offers insight:
He [The Lord] sees that justice is done to the oppressed. He is on their side. His law, his commands, his judicial decisions, his providential interpositions, are in their favor. This does not mean that it will he done at once; or that there will never be any delay; or that they may not suffer even for a long time – for this occurs in fact; but the meaning is, that God has their true interest at heart; that at proper times, and whenever and wherever there are any dealings of his in the case, his acts are in favor of those that are oppressed; and that there will be sooner or later such interpositions in their behalf as shall entirely vindicate their cause.
Be of great courage! Claim hope! The Lord is on your side. Sooner or later, He will vindicate your cause.
~~~~~
Subscribe and Get a Free Printable!
I'm so glad you are here! Sign up here to Meet With God and Grow in Faith.
Join us to get a free resource and to be the first to see these articles!
~~~~~
Find all of the devotions in the series Leaving a Legacy here: Leaving a Legacy
Find Past Devotions on the website under the Devotions menu or at www.diggingdeeperwithgod.com/past-devotions/.
Print