Devotion 1 in the series Leaving a Legacy: Psalm 103
How to Leave a Sweet Legacy of Forgiveness: Learn from the Best
Forgiveness: It sounds idyllic, until we have to work through the process ourselves. Then the work is hard. Can you forgive the person who betrayed your confidence? The one who cut you down? The person with a strongly different view than yours? How can we leave a sweet legacy of forgiveness? We can learn from the best.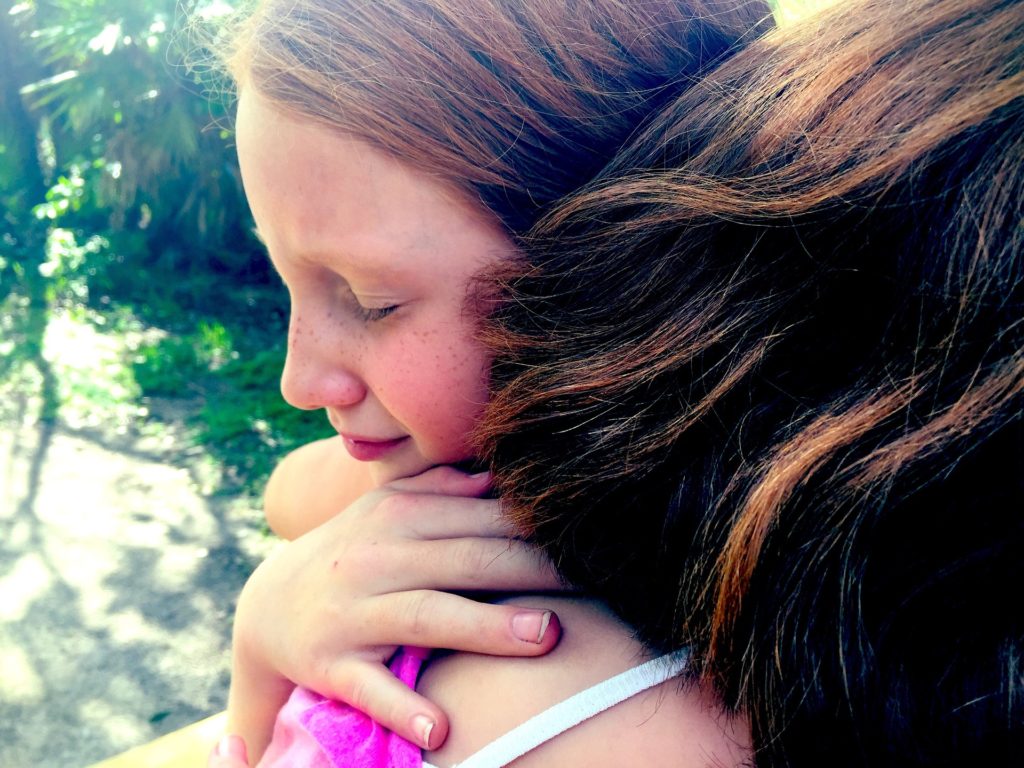 "I'm mad at you!" Isabella announced as she tossed her backpack into my car after school.
"Why are you mad at me?" I asked, perplexed.
"Because Alyssa and Aunt Lisa played cards last night."
"But why does that make you made at me?"
I thought we had enjoyed the best night together, snuggling and getting to the last six pages of her detective book. Would the young female protagonist catch the bad guys? Would justice prevail? The suspense was enough to keep a little future detective riveted. We had shared a warm, cuddly reading time.
But her sister had gotten to play cards with her other aunt, and now she was mad at me!
"Why are you mad at me and not your Aunt Lisa? She's the one who played cards late with your sister."
Her answer struck my funny bone and made me think:
"Because I've already forgiven her."
"You've forgiven her–the one who caused the offense–but you haven't forgiven me?"
"Right."
We laughed and laughed.
Later, I learned that Isabella had gone through a true process of forgiveness with her Aunt Lisa. Isabella had told Lisa how angry she was that she had been left out of the card game. Lisa had apologized and talked through Isabella's need to forgive her. It hadn't "taken" at first. Isabella was really upset. A long while later, she slunk into Aunt Lisa's room and said, "OK."
"OK, what?"
"OK, I forgive you."
And so it was that Lisa was forgiven, but I was not.
Today we start a new series on Leaving a Legacy. What do you want your legacy to be?
Psalm 103 describes all sorts of characteristics of our Heavenly Father, characteristics I want to have, too. We see all of them played out in Jesus' life, which makes sense since He was God manifest in flesh.
In this series, we will
meditate on Psalm 103, where we will see the characteristics of God,
discover how Jesus illustrated those same characteristics, and
evaluate whether the legacy we are leaving is one that flows from God.
Leaving a Legacy:
Knowing God, Finding Jesus, Lighting the Way
Join me, won't you, for this journey?
Today, we look at the characteristic of forgiveness. Take a look at these verses from Psalm 103.
Digging into God's Word: God Forgives
Psalm 103:1-3, 10-12 (ESV)
Bless the LORD, O my soul,
and all that is within me,
bless his holy name!
2 Bless the LORD, O my soul,
and forget not all his benefits,
3 who forgives all your iniquity,
who heals all your diseases,
10 He does not deal with us according to our sins,
nor repay us according to our iniquities.
11 For as high as the heavens are above the earth,
so great is his steadfast love toward those who fear him;
12 as far as the east is from the west,
so far does he remove our transgressions from us.
Jesus Forgives
Although, like Isabella, we have to learn how to work through a process of forgiveness, the very nature of Christ was to forgive. Jesus modeled forgiveness for the woman caught in adultery. He forgave the thief on the cross. He forgave Peter for denying even knowing Him.
In John 8:1-11, the religious leaders of the day brought to Jesus a woman who had been caught in adultery. My heart aches for this woman, placed in the midst of a circle of men, faced with the punishment of stoning.
Jesus turns the tables when He challenges the men: "Let him who is without sin among you be the first to throw a stone at her."
Boom. Doesn't your heart want to melt? Jesus has swept in and saved the day!
9 But when they heard it, they went away one by one, beginning with the older ones, and Jesus was left alone with the woman standing before him. 10 Jesus stood up and said to her, "Woman, where are they? Has no one condemned you?" 11 She said, "No one, Lord." And Jesus said, "Neither do I condemn you; go, and from now on sin no more." (John 8:9-11 ESV, emphasis mine)
Perhaps you have seen modern-day images of this scenario on the news. This woman, who could have lost her life in humiliation and pain, was forgiven and restored by the Savior of the world!
Do we, whose sins, if they were spoken publicly, would cause us shame beyond all recovery, extend forgiveness to those who have directly and indirectly offended us?
Digging Deeper: Am I Leaving a Legacy of Forgiveness?
Treasure this time with the Lord. Reflect on or journal about the following questions, listening for what God has to say to you.
1. Are you a person of forgiveness? Some questions make me squirm: Could I, like Jesus, forgive an adulterous woman, a thief, or a person who betrayed me or my confidence? You may have faced some of these situations personally. Take time to confess any failings in this area. Rest in knowing that just as Jesus forgave all of these people, so He forgives us as we come to Him in repentance.
2. Is there someone that you need to forgive? Repentance involves a change in heart and mind that leads to a change in action. Today, this action could be forgiving a person who has offended you.
3. I encourage you to join me in memorizing Psalm 103. We will be looking at it for several weeks, so you'll have a lot of time to master it! There are 22 verses in this psalm. This week, work on the first 5 verses.
Bless the LORD, O my soul,
and all that is within me,
bless his holy name!
2 Bless the LORD, O my soul,
and forget not all his benefits,
3 who forgives all your iniquity,
who heals all your diseases,
4 who redeems your life from the pit,
who crowns you with steadfast love and mercy,
5 who satisfies you with good
so that your youth is renewed like the eagle's.
4. If you want, sing with or listen to these songs, and contemplate how they relate to legacy and forgiveness.
When All Is Said and Done (Geoff Moore & The Distance)
King of the World (Natalie Grant. The song takes the first 3:30 minutes.)
Forgiveness (Matthew West)
~~~~~
Subscribe and Get a Free Printable!
I'm so glad you are here! Sign up here to Meet With God and Grow in Faith.
Join us to get a free resource and to be the first to see these articles!
~~~~~
Find Past Devotions on the website under the Devotions menu or at www.diggingdeeperwithgod.com/past-devotions/.
Print