Devotion 1 in the series Psalm 46: verses 1-3, God Is Our Refuge
How to Know God Is Our Refuge When You Can't See It – Psalm 46
When the rest of life is collapsing, when the freight train is bearing down on us, how can we know that God is our refuge and strength?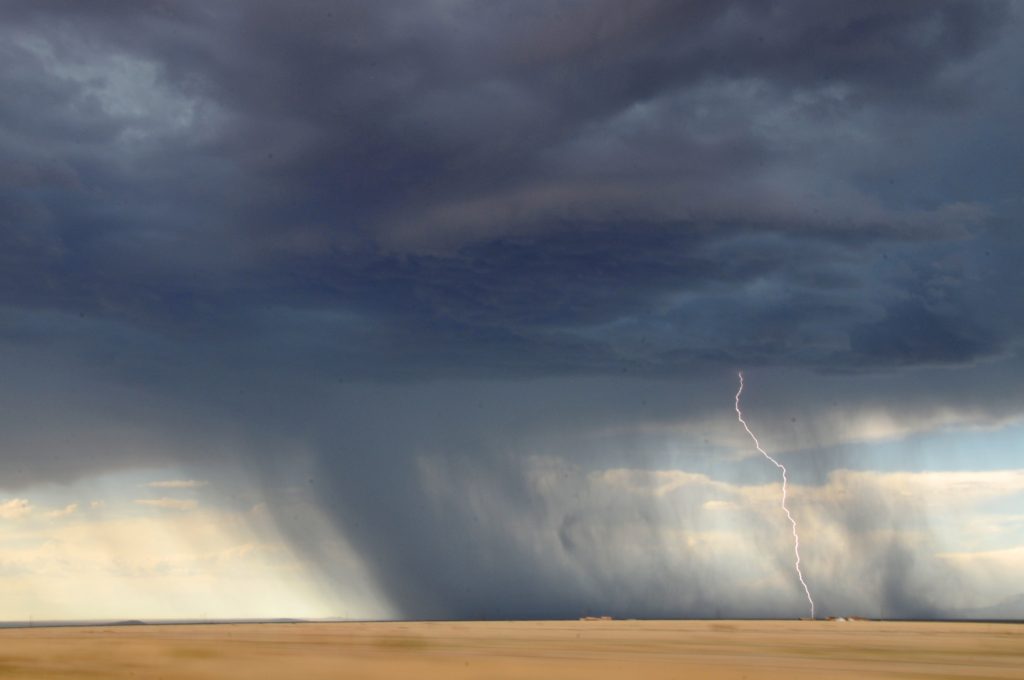 The air grew eerily still. The sky yellowed. My neighbors said, "You'd better go."
We had been standing in their driveway, catching up on life, an easy-going conversation until the change of weather.
As my garage door closed, I saw the first of the icy hail pinging the cement. I felt the wind shift, the kind of sense you get when danger lurks and hairs on necks stand tall. I strode through the kitchen, rounded the corner, and without stopping grabbed a large seat cushion from the couch.
No basement. Not any safe inner room. I clambered into the cold hard bathtub.
My trusty yellow lab had followed me, and without any command she instinctively sat by the tub, her head even with mine. My arm cradled her head, and I stroked her coarse tan hair. Sunshine was her name. We needed some.
It's true what they say about the freight train. The tornado was close.
I lay flat now, covering my head with the cushion. Sunshine pressed herself into the linoleum floor, head between paws, not leaving my side. She breathed slowly, steadily, the stiff twitches of her ears evidence of her concern.
I sang. I didn't recognize the tune. It was loud, melodic, southern gospel-y-ish. A tune I didn't recognize, given to me in the moment. I had not sung southern gospel before, nor have I since. (The world is unquestionably better for it!)
The freight train passed. I took a deep breath and stood, realizing my body and my home were all in one piece.
What had the song been? I had a steel-trap brain but couldn't remember the words or place the tune. It had been a robust, beautiful, melodic blur.
The small tornado had passed through the field across the street and had miraculously lifted right before reaching a group of massive fuel storage containers. Only the dead stalks of corn, already harvested, had been flattened.
We reconvened in the driveway, the air breezy, the sky blue, the conversation nervous relief.
What had I sung? Had God been my refuge and strength without me directly asking for help?
Today we begin a three-part series on Psalm 46. When the rest of life is collapsing, when the freight train is bearing down on us, we are reminded that our source of refuge and strength is God. We may not even recognize the song, but He is there, carrying us through.
For what do you need God's refuge and strength today?
~~~~~
Psalm 46:1-3 ESV
God Is Our Fortress
To the choirmaster. Of the Sons of Korah. According to Alamoth. A Song.
1 God is our refuge and strength,
a very present help in trouble.
2 Therefore we will not fear though the earth gives way,
though the mountains be moved into the heart of the sea,
3 though its waters roar and foam,
though the mountains tremble at its swelling.   Selah
Digging Deeper: God Is Our Refuge
Cherish this time with the Lord today. Reflect on or journal about these questions. If you are an artistic journaler, this passage is chock-full of possibilities for illustration!
1. Consider times in the Bible when God showed Himself to be a refuge and strength to people. Who could say, "God is our refuge"? Here are a few to get you started: God fed Elijah with ravens. (Can we just be awed by that for a moment?) He protected David from Saul, who wanted to kill him. Jesus calmed the winds and the waves. Now you go: List as many as you can.
2. When in your life has God shown Himself to be your refuge and strength? List as many examples as you can. Do your answers to questions 1 and 2 fill a page?
3. What does this mean for you for today? What does it mean for your future?
4. Thank the Lord and sing His praise! In 2 Chronicles 20:21, King Jehoshaphat appointed singers to lead his army into battle, and as they led, they sang,
"Give thanks to the LORD,
for his steadfast love endures forever."
Whatever you are facing today, try beginning with thanksgiving. It will probably feel awkward at first. If you're not ready to thank God for your circumstance just yet, you might start with thanking Him for being God.
Earthquakes, Too!
A telecommuting colleague asked me if I had felt the earthquake. What earthquake, I wondered, and found an online earthquake tracker. The tracker did not make me feel any better about the world.
In the previous 24 hours, there had been 70 earthquakes around the world. 768 in the past 7 days.
No wonder God talks about earthquakes so much in the Bible! I just happen to not live in an earthquake zone. Chances are you don't, either.
But when the earth gives way–when you've lost a relationship, your job, your stability for the moment–and when the mountains tremble–your teenager defies you, your spouse unsettles you, the bills pile before you–who can help?
Only God.
Share your worries with Him. Talk with Him. Plead with Him. Ask Him to show you the way. He will give you a song, maybe one you don't recognize.
Behind the Scenes at DDWG
After our in-depth series on Elisha, we are going to spend some easier Bible time in Psalm 46. As we head toward the Thanksgiving holiday, we will look at biblical accounts in which people expressed thanksgiving. For a short time, these devotions may be less developed: The story before the Bible account might be shorter or even nonexistent on some days!
Your trusty devotion writer needs to take some time for web development and, cough, cough, housecleaning. I hope you will understand.
Every devotion will still have Digging Deeper questions. This personal time with the Lord is the most important part of every devotion, and I hope you will continue to savor your time with the Lord.
Sign up here to Meet With God and Grow in Faith. Do you want more than a 5-minute devo or a get-me-out-of-here-fast sermon? Do you want to know, really know, that Jesus is with you every step of the way? Do you want a deep, dynamic relationship with the Lord? If so, you've come to the right place! Yes, I want that!
Print