Devotion 3 in the series Favorite Bible Verses
How to Find Strength When a Sword Pierces Your Soul
Inside: Are you carrying out a call from God that is piercing your soul? How to find strength to persevere when your soul is weak and your calling hard.
This post contains affiliate links. See our full disclosure here.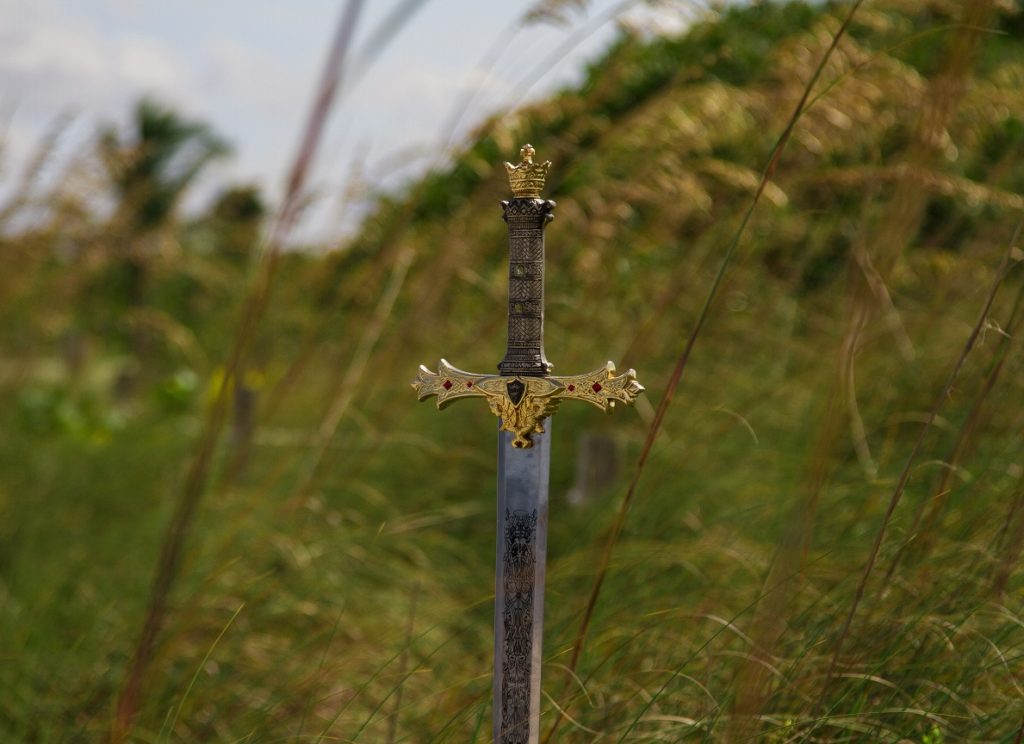 Photo by Ricardo Cruz on Unsplash
When a reader asked me to write about Luke 2:35, I was confused. I even wrote her back asking what she meant by messaging me the verse!
34 And Simeon blessed them and said to Mary his mother, "Behold, this child is appointed for the fall and rising of many in Israel, and for a sign that is opposed 35 (and a sword will pierce through your own soul also), so that thoughts from many hearts may be revealed." (Luke 2:34-35 ESV)
When is the last time you saw verse 35 on a plaque or sang a song about it? Haha! Some passages in the Bible bring us tremendous comfort, others instruct us or give us strength, and some we avoid because they are perplexing or heart-wrenching. This is one of those challenging verses!
When Mary and Joseph brought Jesus to the temple to be dedicated, Simeon prophesied about the impact Jesus would have on Israel and all humankind, but in the middle of his prophesy, he looked straight into Mary's eyes and told her the great pain she would endure.
Imagine the conflicting emotions in Mary's mama's heart: Stunningly, God had asked her to carry and raise a baby who would be the Savior of the world. How astounding! What joy, that she would be chosen to care for such a precious gift!
Yet now this righteous man, Simeon, was revealing to Mary the difficult truth: In bearing and raising this child who would reveal the hearts of the people, a sword would pierce through her own soul.
What about you? Are you carrying out a call from God that involves some soul piercing? An anguish that cannot be explained to another or truly understood by any?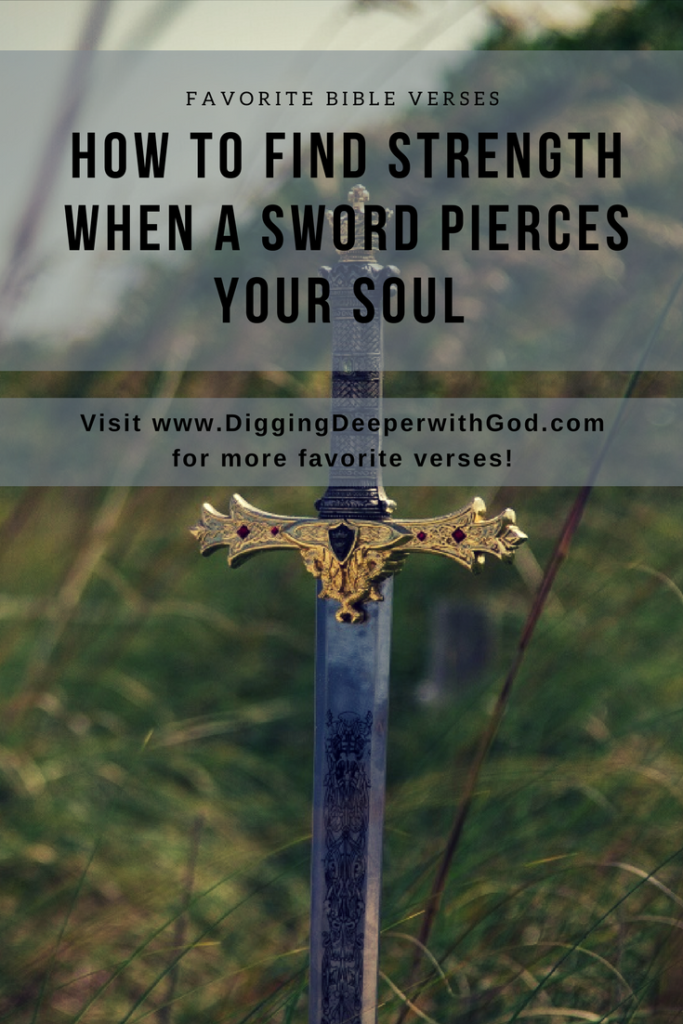 There are times when I can't write what I would like to write. This is one of those times. The story I am living is still being played out, and the characters are not ready for public revelation. God has called me to a mission in which my soul is pierced, but I can only share glimpses with you.
I think of those of you who are staying in a difficult marriage or are raising a child with special needs. Others of you might be raising your children without the help of a spouse, or you may be facing a season or years of infertility. Some of you have been called to a ministry that is mixed with joys and defeats. I don't pretend to know or understand the half of it.
I think of the one who asked me to write about this verse, and the pain that pierces her heart–because isn't our pain ongoing?–and I don't know even one ounce of her grief.
Dear one, God knows. He knows what he asked Mary to do, and He didn't shy away from it. There wasn't reluctance to his perfect plan. Instead, God gave Mary his holy strength to endure the pangs that would surely pierce her soul.
In the midst of this passage about what Jesus would mean for Israel and all of humankind, the ink of God's pen, spoken through Spirit-filled Simeon, paused to acknowledge the pain Mary would endure.
Dear one, God knows. He knows all he has asked you to do, to endure, to plan, to accomplish, to persevere through, to mold, to care for, to advocate for, to see through . . . and how you will need to storm the gates of heaven, pounding on God's heart through the night, into the morning, through the noonday sun, and beyond sundown.
He has given you the strength to do that to which he has called you! Only because of his strength can we endure. Only with his strength can we stand strong. Only in the strength of God's perfect love and compassion can we bear the pain.
Picture yourself at once weak and weary, hoisted up on our Gentle Shepherd's shoulders, carried through green pastures–pastures we are apt to miss because our eyes are clouded with myopic vision of our current circumstances–and at the same time standing strong, defended and protected by the armor of God–a helmet, a breastplate, a shield and sword in hand.
This is us, dear friend:
Weak and weary,
strong in the armor of God,
at once reluctantly and adamantly ready to withstand the piercing of the soul.
because God has called us to it, and what God has called us to he will see us through.
Dear Jesus, our Strong and Gentle Shepherd,

You know what I am going through today–the tough battle of my situation, and how the enemy is trying to wear me down. Oh, Lord, strengthen me. Give me grace for the moment and peace for the outcome, because you hold all things in your hands, and you are good, faithful, mighty, and trustworthy.
Forgive me for my failing love and my lack of trust. Thank you for caring deeply about me and everyone I love. I give my hopes and my grief to you, and I trust your plan.

In your loving name, Jesus, I pray,
Amen.
What has God asked you to do that you can only accomplish by the strength that God supplies?
Digging Deeper: How to Find Strength
If you want to dig deeper into God's Word, work through these questions now or throughout the week:
1. Read Luke 2:22-35 and notice the contrasting messages given to Mary. When have you simultaneously felt joy and sorrow?
2. Has God called you to a station in life, a ministry, or a calling that requires great strength and perseverance? Bring your concerns about this calling to the Lord and talk with him about them.
3. In order to "be strong in the Lord and in the strength of his might" and to "stand against the schemes of the devil" (Ephesians 6:10-11 ESV), we must put on the full armor of God. Read Ephesian 6:10-20. List each piece of armor and ask God to clothe you with them.
Praise and Worship: How to Find Strength When a Sword Pierces Your Soul
There is no better way to find strength in God than to praise and worship him! Try out these songs for size as you make your way through this week:
How He Loves (David Crowder) I call this "the hurricane song," and it has been a favorite from the preschool to middle school years in my home. Soak in God's love for you and bask in his ocean of grace!
I Have This Hope (Tenth Avenue North)
As you listen to the chorus, you might want to turn to Isaiah 43 in your Bible:
1 But now thus says the LORD,
he who created you, O Jacob,
he who formed you, O Israel:
"Fear not, for I have redeemed you;
I have called you by name, you are mine.
2 When you pass through the waters, I will be with you;
and through the rivers, they shall not overwhelm you;
when you walk through fire you shall not be burned,
and the flame shall not consume you.
3 For I am the LORD your God,
the Holy One of Israel, your Savior. (Isaiah 43:1-3 ESV)
Inspiration for Your Home!
Do you want lasting inspiration to remind you that God will see you through and that you are protected with the armor of God? All of these links take you directly to the product on Amazon.
Print