Devotion 3 in the series Elijah: Fully Surrendered
When You Need to Know that God Takes Care of Us
Inside: Calamities strike and tragedies befall us. How to gain a glass-half-full perspective so you can see that God takes care of us even if you are going through a terribly difficult season right now. Includes a free printable of a prayer of surrender!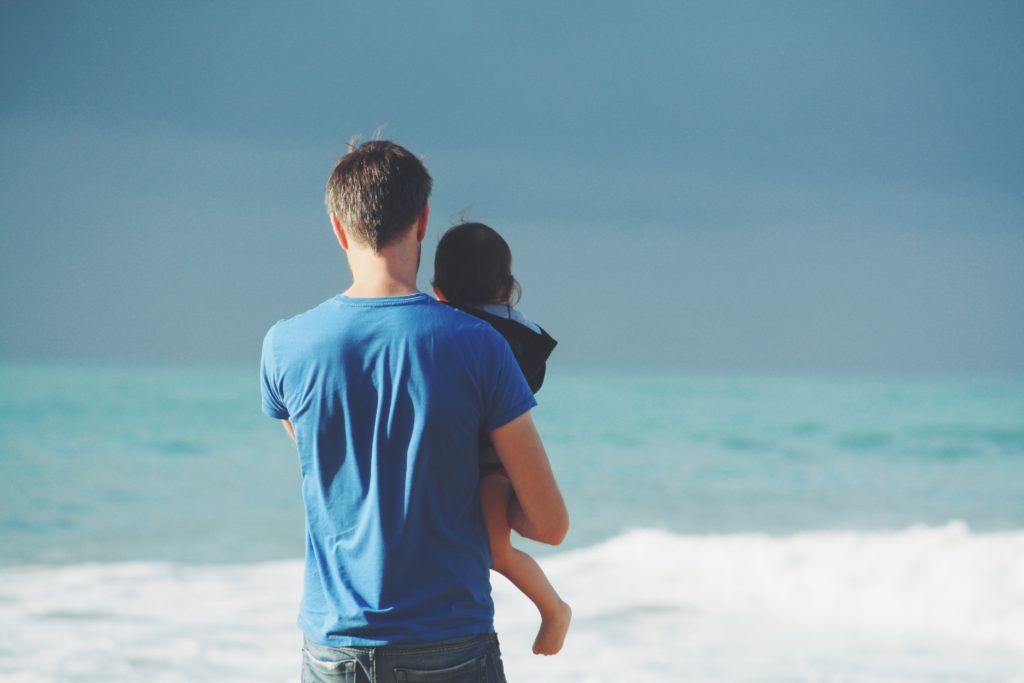 Photo courtesy of Steven Van Loy/Unsplash
I had made a big mistake: With a 40-degree-below windchill, I had decided to drive home from work in a whiteout. Snow blew across the road so fast and fine that I couldn't see beyond a few feet. I didn't realize my mistake until it was too late to turn back. Only a few miles into my 50-mile commute, I couldn't make out the road in front of me, much less see an exit to turn around.
Suddenly an object loomed only a few feet in front of my car. Had I slammed on my brakes, I would have gone into the ditch. Fortunately, I was going so slow I was able to tap the brakes and coast. Large, rectangular, and also white (sigh), it was the back of a semi truck.
I knew if I followed the truck, I would stay on the road . . . or follow him into the ditch, and then at least I would be in good company!
I gripped the steering wheel and kept my eyes on truck's tail lights. At times, those disappeared in the whiteout, and I followed the small lettering on the truck's lower right-hand corner. I was following too closely, but if I backed off, I would lose my guide.
By the time I reached the exit near home, the wind had let up enough for me to see the green exit sign and the tire tracks that led up the snow-covered exit ramp. Once safe at home I collapsed in bed, exhausted . . . and thankful.
God had taken care of me.
I drove that harrowing trek twenty years ago, and the memory is still plain as day. I remember the heart-pounding, stomach-sinking fear as I realized there was no turning back. I can still sense my constant grip on the wheel, the relief of coming upon the tractor trailer, and the thought that maybe I would make it home safely after all.
In last week's devotion, I prodded, "Have we perhaps been cared for by God and not noticed His hand in our survival?"
That has  gotten me thinking this week of all of the ways God has taken care of me that perhaps I have overlooked:
I have not gone without shelter one time in my life.
This could change at any moment, but I have been employed all but three weeks of my adult life.
I've come close to going without, but I have never once been without food to eat. (See this article to read how God once miraculously provided me with a week's worth of meals.)
Oh, dear friend, look how God takes care of us!
In today's scripture (printed for you below), we learn of God's tender care for the widow who had fed Elijah. Remember that she did not know the Lord for herself? After having survived the drought, because the flour was not spent and the oil did not become empty, her son fell ill, and his illness was so severe that he died.
But by the end of today's account, when Elijah by God's power brought her son back to life, this dear woman, who thought she had lost everything, understood God's care completely.
Listen to her complete surrender to God:
And the woman said to Elijah, "Now I know that you are a man of God, and that the word of the LORD in your mouth is truth." (1 Kings 17:24 ESV)
Can you even imagine the way her view of God's care for her changed after this?
I realize calamities strike and tragedies befall us and that some seem inexplicable. Even if you are going through a terribly difficult season right now, I encourage you to briefly ponder God's care for you with a glass-half-full perspective:
Has He given you
friends with listening ears?
safe shelter, transportation, food?
that deep-down assurance that things will eventually turn out?
Like the semi truck for me, perhaps these can be reminders to you, amidst the whiteout in your life right now, that God cares for you. He really does.
In what ways has God shown His care for you?
~~~~~
Elijah the Tishbite was a prophet who was fully surrendered to God, and God worked through him in mighty ways. Click on a link to access a free printable of a Prayer of Surrender!
~~~~~
Digging into God's Word: God Takes Care of Us
You may recall from our last devotions on surrendering to God that God fed the widow and her son despite a lengthy drought. "The jar of flour was not spent, neither did the jug of oil become empty" (1 Kings 17:16 ESV). As you read today's account, let thoughts of God's care for you rise up and settle at the front of your mind.
1 Kings 17:17-24(ESV)
Elijah Raises the Widow's Son
17 After this the son of the woman, the mistress of the house, became ill. And his illness was so severe that there was no breath left in him. 18 And she said to Elijah, "What have you against me, O man of God? You have come to me to bring my sin to remembrance and to cause the death of my son!" 19 And he said to her, "Give me your son." And he took him from her arms and carried him up into the upper chamber where he lodged, and laid him on his own bed. 20 And he cried to the LORD, "O LORD my God, have you brought calamity even upon the widow with whom I sojourn, by killing her son?" 21 Then he stretched himself upon the child three times and cried to the Lord, "O LORD my God, let this child's life come into him again." 22 And the LORD listened to the voice of Elijah. And the life of the child came into him again, and he revived.23 And Elijah took the child and brought him down from the upper chamber into the house and delivered him to his mother. And Elijah said, "See, your son lives." 24 And the woman said to Elijah, "Now I know that you are a man of God, and that the word of the LORD in your mouth is truth."
Digging Deeper: Your Time with God
You won't ever regret this time. As you are able, spend time with God, reflecting on these questions or journaling your thoughts.
1. Read 1 Kings 17:17-24. How do you see God's faithfulness in this passage? When have you experienced God's faithfulness in your life?
2. Let's be honest: Sometimes our tragedies don't turn out as well as the widow's did. Our loved one does not recover from an illness, or we remain unemployed for many months. In those times, God is still with us and for us, even though our current circumstances don't seem to illustrate it. How have you seen God work in your life during those times of despair? If you're in the midst of a heart-rending situation right now, consider hard how God is taking care of you during this difficult season.
3. Do you have doubts about God's care for you, or do you want to be more fully assured of His care? Pray about that now, asking God to help you trust Him and to help you surrender the situation to Him. If you like, you can use the prayer of surrender below, and print out your free printable of it here (8.5 X 11 version, half-page version).
Dear Lord, I come to you now, in need of your wisdom and direction. I bring to you this situation [name it, describe it]. . . . I open my hands and my heart to hear from you [open your hands]. Help me to hear your voice clearly. . . . What you have asked me to do, help me to do with faith and courage. What you have asked me to release, help me to release to you and not grab back as if I know better than you. I surrender to your will. Give my feet your direction and my will your will instead. In Jesus' name, Amen.
4. Let these songs soothe your soul as you consider how God takes care of us:
Reckless Love (Cory Asbury, Bethel Music)
My Story (Big Daddy Weave)
Just Be Held (Casting Crowns)
~~~
If you have found this devotion helpful, please like and Share so others can hear the good news, too!
To start this series from the beginning, click this link: Elijah: Fully Surrendered.
Print