Devotion 1 in the series Overcoming Fear
Do Not Be Afraid: Can God Help Me to Not Be Afraid?
Inside: Even though God says, "Do not be afraid," do you feel afraid more often than you care to admit? Can God help you to not be afraid? How I know God cares about you and wants you to not be afraid. Includes 8 Bible verses and a prayer for when you feel afraid.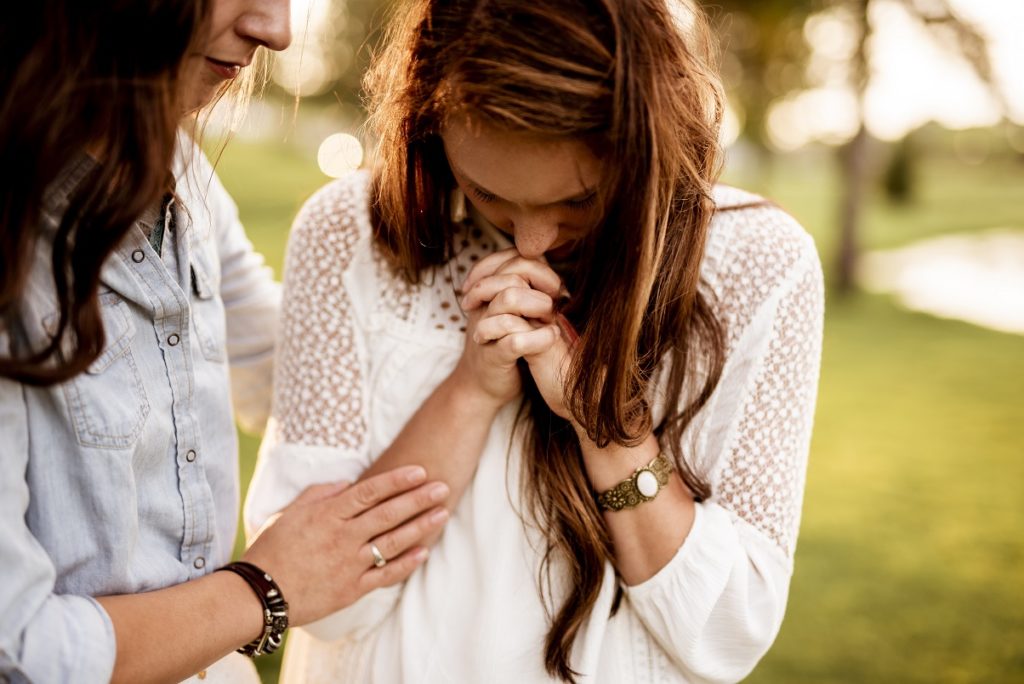 Photo by Ben White at Christianpics.co
I don't like any type of nut, which totally ruins most cookies and brownies for me! You know how people say, "You won't be able to taste the nuts"? Yeah, they lie! Well, they don't mean to, but I can smell nuts from a mile away, and, trust me, I can definitely taste them! Try to disguise them in a recipe by grinding them up, and I still won't be tempted by your culinary delights. You can't fool me!
The thing is, God never tries to pull a fast one on us. He knew that part of the fallen human condition was that we would often be afraid, and so instead of trying to hide it from us, he provided account after account in the Bible of people who needed his help to overcome their fears.
Whether it was a weak warrior facing a formidable army or a principled woman needing protection from the culture of the day, God spoke might and peace and protection into each person's heart.
So why wouldn't it be any different for us? Why can't we find that same might, peace, and protection from our fears?
We can!
In the next few weeks, we will look at different types of fear and how God can help us with those fears.
I posed the question of how often you feel afraid to members of the Digging Deeper with God Community for Women Facebook group, and most people responded that they feel afraid 1 to 2 times a week. That's a lot of fear right there–up to 104 times a year–and my guess is that people who feel fear more often were reluctant to respond!
What Are Your Fears?
We might have fears of snakes, spiders, or wasps, but I'm talking about a different type of fear. I am referring to the worries that wake you up in the night and keep you from getting back to sleep. Do you know what I am talking about? I am sure you do!
Which of these fears invade your thoughts during the day or keep you up at night:
You or your spouse losing a job. (I've had a fear of losing my job for years!)
The fear of death: fearing that you, your spouse, or your children might die.
The fear of public speaking or of doing something new or unusual.
Fear of failing at something or disappointing someone.
Health scares and all that it could mean for your life.
How about this one: the fear of doing something God has asked you to do! (Remember Moses and Pharaoh?)
Irrational fears in just about any area: You know, the kind of fear that starts spinning in your mind, and pretty soon everyone you love is abducted or dead!
God has a word for us for how to handle fear. He knows that fear is going to come our way very often in our lives. Throughout all of the accounts about fear in the Bible, one theme prevails:
God has it! He is on your side. He has it covered. 
Consider these words from Psalm 118:5-9 (ESV):
5 Out of my distress I called on the LORD;
the LORD answered me and set me free.
6 The LORD is on my side; I will not fear.
What can man do to me?
7 The LORD is on my side as my helper;
I shall look in triumph on those who hate me.
8 It is better to take refuge in the LORD
than to trust in man.
9 It is better to take refuge in the LORD
than to trust in princes.
Whatever is causing fear in your heart today, take it to Jesus, lay it at his feet, and thank him for walking through it with you.
Digging into God's Word: 8 Bible Verses About Fear
Your fears are normal and part of being human. God knew that, so he filled his Word with tons of promises to be with us when we are afraid! I chose 8 to include here, but you can find many others! Read through these verses slowly, carefully. Which passage speaks to you today?
~~~
fear not, for I am with you;
be not dismayed, for I am your God;
I will strengthen you, I will help you,
I will uphold you with my righteous right hand. (Isaiah 41:10 ESV)
Then he said, "I am God, the God of your father. Do not be afraid to go down to Egypt, for there I will make you into a great nation. (Genesis 46:3 ESV)
And Joshua said to them, "Do not be afraid or dismayed; be strong and courageous. For thus the LORD will do to all your enemies against whom you fight." (Joshua 10:25 ESV)
He said, "Do not be afraid, for those who are with us are more than those who are with them." (2 Kings 6:16 ESV)
And he said, "Listen, all Judah and inhabitants of Jerusalem and King Jehoshaphat: Thus says the LORD to you, 'Do not be afraid and do not be dismayed at this great horde, for the battle is not yours but God's. (2 Chronicles 20:15 ESV)
In God, whose word I praise, in God I trust; I shall not be afraid. What can flesh do to me? (Psalm 56:4 ESV)
Peace I leave with you; my peace I give to you. Not as the world gives do I give to you. Let not your hearts be troubled, neither let them be afraid. (John 14:27 ESV)
And the Lord said to Paul one night in a vision, "Do not be afraid, but go on speaking and do not be silent, (Acts 18:9 ESV)
Digging Deeper: Do Not Be Afraid
Right now or throughout this week, consider these questions. I encourage you to talk with God about them and journal about them.
1. What are you afraid of most often?
2. Which Bible verse on not being afraid is most relevant to you today? Tuck it in your heart by writing it several times or memorizing it.
3. Ask God to help you trust in him and to guide you as you face your fears. Claim God's promises to calm your fears and fight your battles for you. He is for you, not against you!
4. Do you like artistic Bible journaling? Choose one of the passages above to focus on in your artwork this week!
A Prayer for When You Are Afraid
Dear Heavenly Father,
Thank you for understanding my fears and for promising to be with me and strengthen me. I ask for your guidance and protection. Would you please help me to release my fears to you? You are righteous and holy, and you walk before me, showing me where to go. I confess that I have not trusted you fully to fight my battles. Please forgive me, and help me to trust you more fully each day. Thank you for the gift of your Son, Jesus, who took my sins to the cross and gives me the promise of a peace beyond what this world offers.
In Jesus' name I pray,
Amen.
If you prayed this prayer, would you let me know? You can find me on Facebook or email me at christinedrews2@gmail.com. You can also find me on Pinterest at Pinterest.com/deeperwithgod.
Join our community at www.facebook.com/groups/DDWGCommunityforwomen/!
Extra Info: Is There a "Fear Not" for Every Day of the Year?
Despite what you may have read, there are not 365 instances of the exact words "fear not" or "be not afraid" in the Bible. The concept seems to have come from Dr. Lloyd Ogilvie's book, 12 Steps to Living Without Fear, which covered Bible texts on "fear not." Ogilvie was the chaplain to the Senate for many years.
Although the exact words "fear not" or "don't be afraid" are not used 365 times, Ogilvie found 366 passages about living without fear. That's several hundred passages! I ran across this anonymous person's commentary in an entertaining string of comments on the subject of fear not:
"I just recently heard myself that 'fear not' is in the Bible 365 times and decided to do my own research. Maybe it isn't in there 365 times, maybe it is. I will know more when I am finished. All I know is after like the 50th time of reading do not fear, I get the point. And why should I fear with God on my side?"
I thought that was a pretty good take on it!
Praise and Worship
There's nothing like praising God to put your eyes on Jesus and off of your fears!
Whom Shall I Fear (God of Angel Armies; Chris Tomlin)
Fear Is a Liar (Zach Williams, This is the official music video, but I also want to give you a trigger warning. If you are struggling with depression, it might be safer for you to watch the straight lyric video: Fear Is a Liar Lyric Video.)
I Will Trust in You (Lauren Daigle)
Print