Devotion 3 in the series Hope Springs Eternal: Romans 8
Be Strong, Have Hope, and Wait for God
Remember waiting in line for Space Mountain at Disney World? You thought you might die, the wait was so long. As adults, we wait even longer for more difficult things. Discover how hope can sustain you as you wait for God.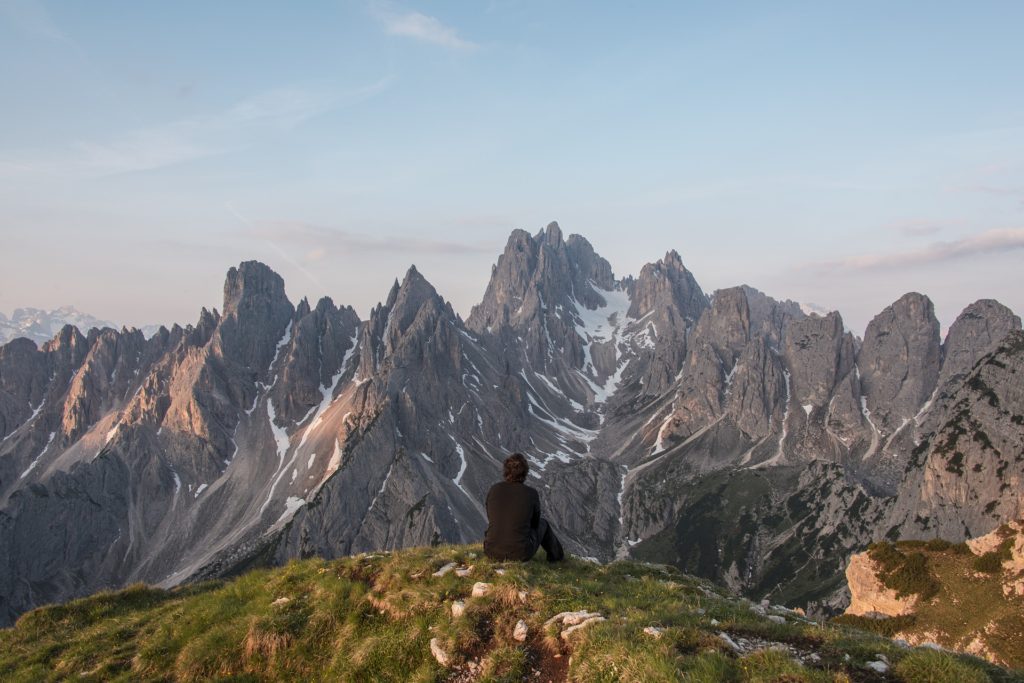 Remember as a kid waiting for Christmas morning? How did all those presents magically appear, and had Santa really come down the chimney?
Or how about waiting to learn whether your best friend would be in the same classroom with you? My sister talked so much with her friend Mary in 1st grade that they never got placed in the same class together again.
Or while on vacation, the wait in line for Space Mountain at Disney World was so long, we thought we might die. But the ride was worth the wait! (Truth be told, I preferred It's a Small World.)
Now as adults we find ourselves waiting for longer, harder things:
The wait for the right spouse or to have children is lonely and painful.
Staying in an unfulfilling job or waiting for the right job to open seems interminable.
Waiting while a spouse or child weathers a difficult season is unbearable.
As we wait, we hope, because we just can't help it, and in a cosmic reversal, hope helps us wait.
Wait, what? How is it that hoping in something we cannot see helps us to wait for news we don't want to hear or for an outcome that seems uncertain?
Because our hope is not in ourselves. If it was, our hope would be pointless. We'd be sunk. Instead, our hope is in God, whose promises are sure. And what does He promise? They're some of the most frequently quoted verses from the Bible:
With God all things are possible: "But Jesus looked at them and said, 'With man this is impossible, but with God all things are possible.'" (Matthew 19:26 ESV)
God works things together for good: "And we know that in all things God works for the good of those who love him, who have been called according to his purpose." (Romans 8:28 NIV)
Nothing can separate us from God's love: "For I am sure that neither death nor life, nor angels nor rulers, nor things present nor things to come, nor powers, nor height nor depth, nor anything else in all creation, will be able to separate us from the love of God in Christ Jesus our Lord." (Romans 8:38-39 ESV)
This hope, the roots of which we do not completely understand, gives us patience. It keeps us steadfast as we wait, because even if we are hoping for the wrong thing, God is going to work out all of the details for the good.
For in this hope we were saved. Now hope that is seen is not hope. For who hopes for what he sees? But if we hope for what we do not see, we wait for it with patience. (Romans 8:24-25 ESV)
But sometimes the wait seems endless, beyond our ability to sustain hope. What are we to do then?
Just because you haven't seen the visible answer yet doesn't mean God isn't working out all the details over time.
Joseph, the one with the coat of many colors, could not have understood the ultimate purpose of his brothers' betrayal until they showed up desperate for food over 20 years later.
Abraham and Sarah waited decades before Sarah gave birth to her firstborn. She was 90 when she conceived.
The Israelites waited four long centuries until the Lord delivered them from their slavery in Egypt.
God is a long-term God.
For a thousand years in your sight
are but as yesterday when it is past,
or as a watch in the night. (Psalm 90:4 ESV)
This might not be what you wanted to hear.
Yet we need to take this one necessary step further: Sometimes, we must accept that the outcome of our hope will not be fulfilled in our lifetime. Deep breaths.
This does not discount the sureness of our hope.
The people of the Old Testament placed their hope in what they never saw fulfilled: Jesus, the Messiah, born in Bethlehem, walking perfectly on earth, sacrificing His life for theirs. Generations did not see the fulfillment of this hope. But that does not mean God wasn't working or that their hope didn't come to fruition!
Their hope came to fruition at the perfect time and in a way they could not have expected.
And so it is the same with us: God has something remarkably better, much deeper, in mind for us than Santa and Christmas presents or Disney and Space Mountain. For our trust is in the name of the Lord our God (Psalm 20:7).
What are you hoping for? Is your hope grounded in what is sure?
Wait for the LORD;
be strong, and let your heart take courage;
wait for the LORD! (Psalm 27:4)
Digging into God's Word: Hope Helps Us Wait for God
By definition, we hope for what we do not see. Take time to digest the following passage from Romans 8. If it seems too complicated, feel free to skip to verse 24.
Romans 8:18-25 (ESV)
18 For I consider that the sufferings of this present time are not worth comparing with the glory that is to be revealed to us. 19 For the creation waits with eager longing for the revealing of the sons of God. 20 For the creation was subjected to futility, not willingly, but because of him who subjected it, in hope 21 that the creation itself will be set free from its bondage to corruption and obtain the freedom of the glory of the children of God. 22 For we know that the whole creation has been groaning together in the pains of childbirth until now. 23 And not only the creation, but we ourselves, who have the firstfruits of the Spirit, groan inwardly as we wait eagerly for adoption as sons, the redemption of our bodies. 24 For in this hope we were saved. Now hope that is seen is not hope. For who hopes for what he sees? 25 But if we hope for what we do not see, we wait for it with patience.
Digging Deeper: Hope Helps Us Wait for God
Treasure this time with the Lord. Reflect on or journal about the following questions, listening for what God has to say to you.
1. Have you been hoping for something for a very long time, and it has yet to come to pass? Ask God to reveal to you whether your request is within His will. Are you to persevere in praying and hoping for this desire, or does God have in mind a different direction?
2. Reflect on whether you once hoped for something for a very long time, and God worked things together for good, either in the way you had hoped or in a surprising, but wonderful, turn of events? Mull on this question over time this week. If this has happened for you, remind yourself that you can wait for God, for He proved Himself faithful to you before, and He will do it again.
3. Fully take in this promise of God, and let it strengthen you throughout your day.
Fear not, for I am with you;
be not dismayed, for I am your God;
I will strengthen you, I will help you,
I will uphold you with my righteous right hand. (Isaiah 41:10 ESV)
4. There is nothing quite like music to bring hope to your heart! Choose one or all of the songs to listen to.
Everlasting God (Strength Will Rise) (Chris Tomlin)
You Never Let Go (Matt Redman)
Great Is Thy Faithfulness (as sung by Chris Rice)
~~~~~
Find the Series
You can find the entire series on Hope here: Hope Springs Eternal
Find Past Devotions from other series on the website under the Devotions menu or at www.diggingdeeperwithgod.com/past-devotions/.
~~~~~
Free Printable on Psalm 103!
A few weeks ago, we finished a series on Leaving a Legacy, which focused on living out the characteristics that God models for us in Psalm 103. If you'd like a printable on What Psalm 103 Tells Us About God, click this link:
What Psalm 103 Tells Us About God
~~~~~
I'm so glad you are here! Sign up here to Meet With God and Grow in Faith.
Join us to get a free resource and to have these devotions delivered straight to your inbox.
Print