Free Gifts
Sign Up Here to Get Your Copy of a
Gratitude Journal: A Month of Thanksgiving Reflections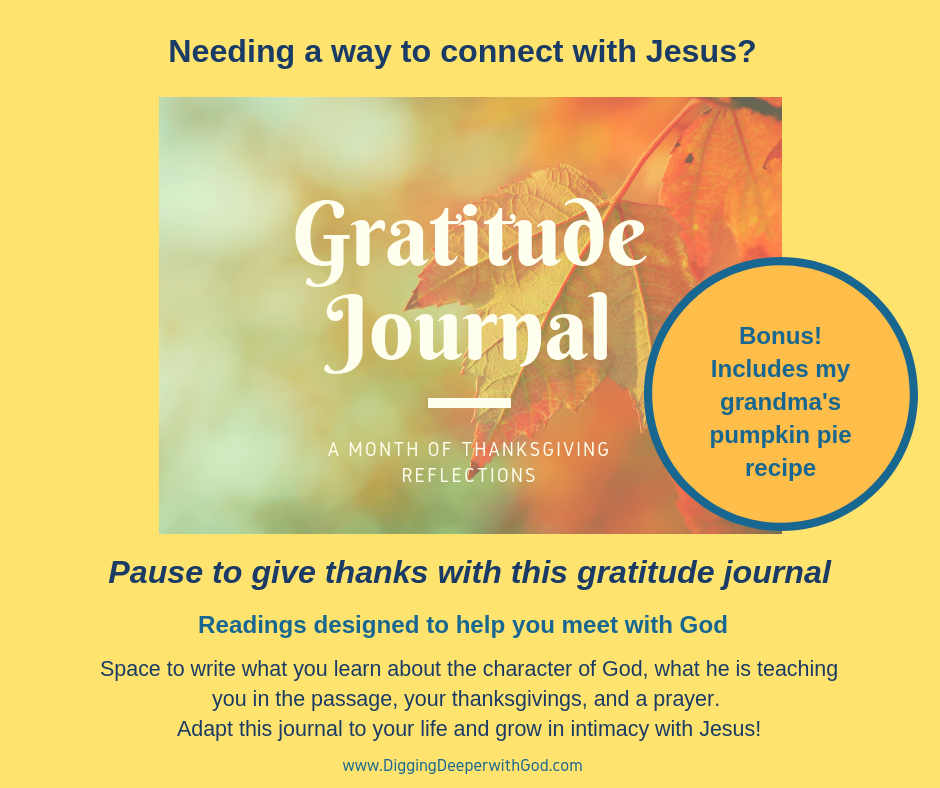 I'm so glad you are here. Sign up here to Meet With God and Grow in Faith. By signing up, you'll get a free PDF of this Gratitude Journal.
How can you regain or maintain intimacy with Jesus? One way is by pausing to give thanks, and even more, by drinking in rich passages in God's Word of people dropping to their knees in thanksgiving to the Lord. When we see how God worked in the lives of the disciples, the lepers, King Solomon, and Daniel before him, we gain a glimpse of who God really is–what his true character is–and, chances are, we will see His hand more clearly in our own lives as well.
Do you want to rekindle your relationship with the Lord this season? Then join me in using the Gratitude Journal that I created just for you!
True to our "Digging Deeper" theme, this Gratitude Journal gives you the opportunity to reflect deeply, and so I have chosen three passages per week:
A passage showing interactions with Jesus
An account of thanksgiving from the Old Testament
A psalm
The
downloadable document
includes space to write what you learn about the character of God, what he is teaching you in the passage, your thanksgivings, and a prayer. Spend as short or as long of a time on each day's readings as you want. Choose to do one a week or three a week: You can adapt the 
journal
 to meet your needs.
As an extra gift for you, I have included my grandma's pumpkin pie recipe, an easy recipe that has stood the test of time! You literally mix ordinary ingredients in one bowl and pour the filling into pie shells.
Please accept this gift to you, and live this season with an open hand and heart to the Lord.
Download this journal in 8.5 X 11 or A4 size. Print it in color or in black-and-white.
Needing a way to connect with Jesus? Cultivate a heart of gratefulness with this Gratitude Journal, and get a scrumptious pumpkin pie recipe as a bonus!
Join us to get the free resource and to have devotions delivered straight to your inbox.